.....

¶ On Nick Curtis' site, we find this cryptic message, dated June 2003: "Berthold Types threatens legal action, claiming "trademark infringement and dilution of our ... marks, counterfeiting, and unfair competition with Berthold Types under applicable law" because of the similarity of the names Boulevard and Boogaloo Boulevard, and City and City Slicker. More news as things develop." Not only is this frivolous and ridiculous, but I can't understand how a reputed typographer like G. G. Lange can keep his name associated with the Berthold syndicate.
---
The details

¶ [The text in this section was emailed to me by Nick Curtis.] Yesterday, Saturday 28 June 2003, I was served a summons from the US District Court, Northern District of Illinois, Case No. 03C 4172, Berthold Types Ltd. v. Myfonts.com, Inc and Nick Curtis, d/b/a Nick's Fonts.
¶ The suit alleges, among other things, copyright infringement, dilution of trademark and unfair trade practices, citing their proprietary right to the names "Boulevard," "City" and "Cosmos," and citing as infringements FFF Cosmos, CA Cosmo, Boogaloo Boulevard, City Slicker, Crater City and virtually the entire Font City catalog. In relief, they are asking that the masters for all of these fonts be delivered to them for destruction, that any trace of them under our collective control be deleted from the face of the earth, that we issue press releases acknowledging our wicked deeds, and that we pay their court costs, attorneys' fees and a whole lot in compensatory and punitive damages.
¶ I strongly suspect that the reason Myfonts.com was dragged into this "disagreement," rather than the other small foundries or designers who created the fonts, is that the little guys all reside outside the United States. The same court decided in Berthold Types Ltd. v. European Mikrograf Corp., No. 99 C 8248, UNITED STATES DISTRICT COURT FOR THE NORTHERN DISTRICT OF ILLINOIS, EASTERN DIVISION, 102 F. Supp. 2d 928; 2000 U.S. Dist. LEXIS 6544, that Berthold's suit against European Micrograf was invalid because the court lacked jurisdiction over German citizens. I am sure that Myfonts.com legal staff will point this out to the court.
¶ Anyone who knows anything about font buyers knows that they buy a particular font based on its design, and not on its name; and that they don't buy fonts sight unseen, so Berthold's basic premise is full of holes from the get-go. Their real purpose, it would seem, is to monopolize internet search engines, and deprive potential buyers of any element of choice, which sounds to me very much like restraint of free trade and, umm, unfair trade practices.
---
Nick's analysis

¶ Nick goes on: "The main point Berthold is trying to make is that the similarity of names causes confusion in the marketplace, misleading consumers into believing they are purchasing Berthold fonts when, in fact, they are purchasing others. The entire argument is patently absurd if you know anything about people who actually DO buy fonts. No one I know has ever purchased a font because he or she liked the name rather than the design, and I don't know anyone who has ever bought a font sight unseen."
---
Luc's reaction

¶ It is irrelevant that Nick Curtis is a nice guy, that MyFonts is trying to provide the world with a decent and honest font service, and that the Berthold syndicate are the bad guys from the slums of Chicago. What matters is that this affair can only be fought on trademark and copyright. Copyright is clearly not applicable as no font of Nick Curtis comes even close to any font in the Berthold collection. Trademark is trickier, as the word City appears in some of Nick Curtis's fonts. However, in combinations, such as City Slicker, where "Slicker" is the principal noun, this will not apply. Boogaloo Boulevard NF (note the NF!!!) is hard to confuse with Boulevard. There are many precedents that can be cited in this regard. In fact, trigger-happy companies like Linotype often use the same extension trick to protect themselves from trademark lawsuits. On the other hand, Nick and MyFonts must defend their typeface names, and are thus doomed to some court costs and lawyers' fees. But the outcome will be clear: either the case will be dropped, or the judge will dismiss the lawsuit.
---
More harrassment

¶

This mini-story from March 2011 is based on an educated guess and reconstruction of the facts. In March 2011, I noticed a new font by Nick Curtis on MyFonts, called Jersey City NF. It was advertised as a revival of a 1905 font in the ATF catalog called Times Gothic. Nick probably chose the name Jersey City because American Type Founders was located there. A couple of weeks later, that font went awol, and another revival of Times Gothic appeared, Petty Despot NF.
¶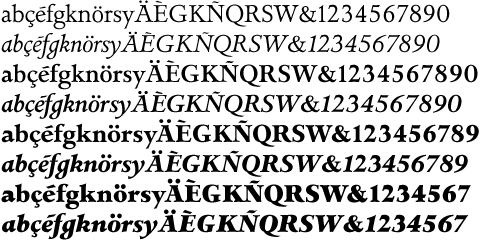 What probably happened is that Berthold, once again, complained, because the name Jersey had been used by Berthold in a totally different font, Jersey (1985) designed by Gustav Jaeger. I thought that city names could not be trademarked, but who am I?

¶ I will give one match point to Nick for renaming Jersey City NF Petty Despot NF. As it happens, this week Obama declared war on bullies. Maybe the type community can help Obama's cause?
¶ When I checked my files, I noted that the name Jersey had previously been used by Julian Morey (Club 21 foundry, Fontworks) in 2000 for an octagonal sports lettering font. He too was forced to change the name---it is now called Jakarta. Hunt, Berthold's godfather, had threatened Morey with an expensive law suit in England.
---