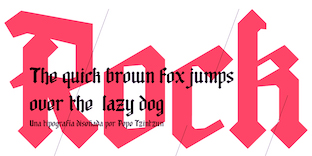 Mon Pote stands for Most Original Name Prize Of the Trump Era. Starting in 2016, it is given annually, during Trump's tenure, to the best new typeface name. The jury is presided by Luc Devroye, whose office is accepting nominations all year long. The awards are given in November of each year. The winner is expected to donate to the Canadian Narcissism Society or Club Med Guantanamo. The list of winners:
2016: Cacastrofica Textere by Pepe Tzintzun (Mexico).
Nominations for 2017 thus far include Katastrofe (Jakob Fischer).
[Google] [More] ⦿
International competition in 2016 which recognizes excellence in communication design, including the use of typography, calligraphy, handlettering and other letterforms in advertising, books, calendars, catalogs, corporate identity, editorials, exhibits, signage, architecture, logos, packaging, posters and apparel. [Google] [More] ⦿
Chinese type competition organized by Hanyi Font with three categories: Chinese Text, Chinese Display, Latin (for use with a set of given Hanyi fonts). The fonts should be designed after March 2016 and before March 2018, the deadline for submissions. The judging will take place in April 2018.
The judges: Xuefeng Bi (Professor of China Academy of Art, Associate Dean of Design Art College), Osamu Torinoumi (Japanese type designer, President of Jiyukobo Ltd), Li Qi (Chinese type designer, Chief Designer of Qihei family of Hanyi), Rong Chen (Chief of Visual Communication and Information Department, Shanghai Institute of Visual Arts (SIVA), Chief Creative Director of Qinwei Design), Min Wang (Deputy Director of the Academic Committee of the Central Academy of Fine Arts (CAFA)), Sang-soo Ahn (Korean graphic designer, Head of PaTI (Paju Typography Institute)), Zhiwei Zhu (Chinese type designer, Artistic Consultant of Hanyi Font), Yong Wu (Professor, Director of the Department of Graphic Design, Cheung Kong School of Art and Design), Yiyuan Ma (Chief Operating Officer of Hanyi Font). [Google] [More] ⦿
Created in 1987 along the model of the New York Type Directors Club, and led by Katsumi Asaba, the Tokyo Type Directors Club organizes an annual type competition. Archive of the outcomes of the Tokyo TDC Annual Awards. Jury for TDC 2017: Katsumi Asaba, Kazunari Hattori, Naomi Hirabayashi, Tsuguya Inoue, Taeko Isu, Kaoru Kasai, Atsuki Kikuchi, Issay Kitagawa, Akira Kobayashi, Henrik Kubel, Gento Matsumoto, Kiyonori Muroga, Hideki Nakajima, Masayoshi Nakajo, Norio Nakamura, Yugo Nakamura, Yukimasa, Okumura, Takuya Onuki, Taku Satoh, Katsuhiko Shibuya, Shin Sobue, Fumio Tachibana, Yui Takada, Yoshie Watanabe and John Warwicker. Applications are due on November 1, 2016. [Google] [More] ⦿