Brenners Template [Ryul Davidson]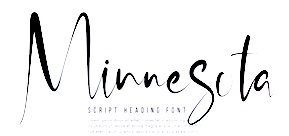 Korean designer of these typefaces:
Metaverse Display (2021). a squarish family.
Aleesya Rose (2021). A fashion mag font family in 14 styles. This led to Aleesya Serif by 2022.
Kymer Awon (2021). A stylish all caps display typeface.
Tilaa (2021, sans and serif). A 4-style mini-serif and sans typeface pair in which many adjacent letters are connected by hairline threads.
Amonos Display (2021). An 18-style circle-based sanswith truncated descenders.
Gernsheim (2021). An 18-style condensed sans for logos and headlines.
Along Sans Rasoe, Along Slab Work, Along Sans Rounded (a fat rounded monoline sans), Along Serif BSC (a contrast-rich serif family in 18 styles) and Along Slab, all released in 2020. Along Sans Grande (an ultra-condensed sans in 18 styles) followed in 2021.
Ensley (2020). A serif font in 18 styles.
Claudia Fiesta (2020). A high contrast fashion mag style typeface.
Belong Sans (2020).
The script typefaces Minnesota (Solid, Brush; almost in Treefrog style), Caminode (a wild script), Lewis Script and Blessing (a dry brush script in OpenType SVG format), all released in 2020.
Along Sans (2019). An organic and geometric sans family designed for headlines and logos. It is characterized by a wind-swept ascender on the k.
Quenbach (2019). A 36-style sharp-edged geometric sans.
Reost (2021). An 18-style monolinear organic circle-based sans.
Zenoa (2022). A 14-style luxuriant hipster serif.
Gibeon (2022). In 27 styles. A unicase display family characterized by its tall x-height, psychedelic traits and hipster era curves.
EXTERNAL LINKS
Brenners Template


[Buy fonts]


[Designer info]
Fontspring link [Buy fonts]
Dafont page
Creative Market page
MyFonts search
Monotype search
Fontspring search
Google search

INTERNAL LINKS
Type designers ⦿ Type designers ⦿ Korean (Hangul) ⦿ Type design in South Korea ⦿ Commercial fonts (small outfits) ⦿ Dry brush script typefaces ⦿ SVG typefaces ⦿ Brush script typefaces ⦿ Treefrog typefaces ⦿ Fashion mag typefaces ⦿ Circle-themed typefaces ⦿ Unicase type design ⦿ Psychedelic types ⦿