Brenners Template [Ryul Davidson]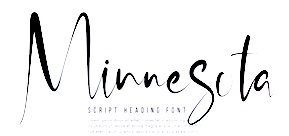 Korean designer of Along Sans (2019), an organic and geometric sans family designed for headlines and logos. It is characterized by a wind-swept ascender on the k. He also designed Quenbach (2019), a 36-style sharp-edged geometric sans.
In 2020, he released Along Serif BSC (a contrast-rich serif family in 18 styles), Along Slab, Ensley (a serif font in 18 styles), Claudia Fiesta (a high contrast fashion mag style typeface), Belong Sans and the script typefaces Minnesota (Solid, Brush; almost in Treefrog style), Caminode (a wild script), Lewis Script and Blessing (a dry brush script in OpenType SVG format).