Goodigital13 [Mariyana Mariyana]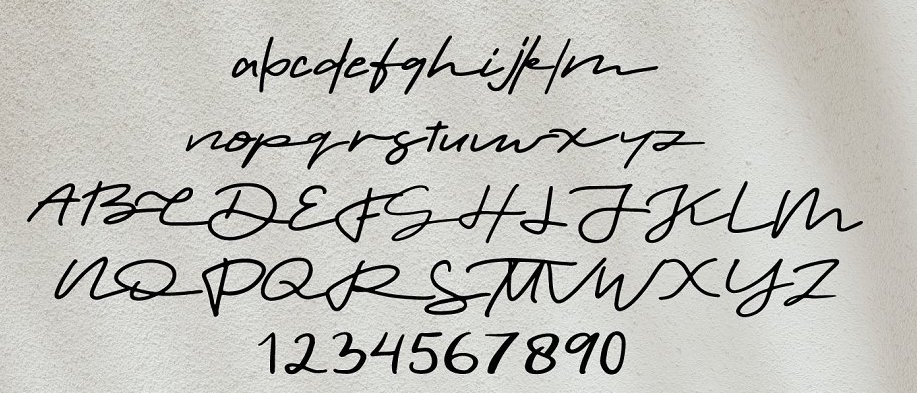 Tangerang, Indonesia-based designer of script typefaces. Creations from 2019 include Minim, Signed, Consectetur, The Fox, Magenta, Aliquip, Northen, Judge, Mistake, Asya, English (a signature script), Commodo, Harvest, Nostrud, Summer, Alone, Sinten, Incididunt, Setia, Everbest, Sunset, Saturday, Staies, Zaline, Serious, Darling, Jonesly, Sweet Heart, Devandra, Cinnamon, Follow, Villboard, Einstein (a signature font), Hallem, Morano, Little, Natune, Aishia, Fufu, Vegener, Allinet, Boba, Endorse, Emisha, Edfander, Browen (brush), Reinoto, Lova, Mono, Lovina, Melanda.
Typefaces from 2020: Aroma Garlic, Home Decor, Simple Home, Alan Walker (a signature script), Hantaran, Rachmanty, Stuart Collins, Love Curly, Maulida, Love Forever, Love Sweets, Perfect Love, Jasmine Tea (from a child's hand), Alandria, Fatimah, Pendekar, Lassie, Mongolia, Abimanyu, Soundwind, Attaurel, Evil Eye, Ginan, Crazy Zombie, Halloween Day, Vegan Food, Aquascape, Bucinta, Household, Cutie Cat, Cutie Shop, Provincia, Carita, Maroko, Cinestory, Ollus, Bomboloni (a lively script), Lemos (a brush font), Salting (a monoline script), Alamanda, Missive, Endossement, Lannia, Annasteel, Hillary, Bensue, Bellorina, Paramore, Expose, Emillia Natasha, Caribean, Camelia Glow, Scootish, Kaliarta, Juliant, Sally, Kannabelle, Eilbert, Vinitry, Stevania, Kaliarta, Devandra.
EXTERNAL LINKS
Goodigital13


[Buy fonts]


[Designer info]
Dafont page
Creative Market page
MyFonts search
Monotype search
Fontspring search
Google search

INTERNAL LINKS
Sites with only a few free fonts ⦿ Type design in Indonesia ⦿ Signature/logo fonts ⦿ Brush script typefaces ⦿ Type design in Indonesia ⦿ Type designers ⦿ Type designers ⦿ Commercial fonts (small outfits) ⦿ Monoline script fonts ⦿ Horror fonts ⦿ Children's handwriting fonts ⦿