Carlos Mignot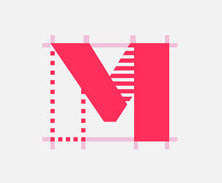 Graphic designer in Rio de Janeiro associated with Plau Design. At Miami Ad School, as a student, he created Minimal Fraktur (2015). In 2018, he designed the corporate art deco typeface Chez Lalu 70. In 2019, he co-designed Muda, a corporate typeface for the fashion brand Oficina Muda with Ana Laura Ferraz, Gabriel Menezes and Rodrigo Saiani. In 2020, still at Plau, he designed the custom all caps sports company typeface Brio. With Rodrigo Saiani, Carlos Mignot designed the video game font family (+stencil, +Cyrillic) either called Killing Sans or Nine to Five (2020). Still in 2020, Mignot designed the flared Koch Antiqua-style custom typeface Xilo.
In 2021, Ana Laura Ferraz, Valter Costa, Carlos Mignot and Rodrigo Saiani designed the handcrafted black poster and branding typeface Vinila for the identity of grammar teacher Eduardo Valladares' personal brand EDU VLLD (Edu stands for Eduardo and Education while VLLD represents Valladares and Vulnerability). Carlos Mignot and Felipe Casaprima designed the corporate family iN Serif and iN Sans (+Mono) for iN Consultoria de Marcas in 2021. Still in 2021, Carlos Mignot and Rodrigo Saiani designed a few hip typefaces for the Brazilian TV channel Canal Brasil.
At Plau, he published the 10-style humanist ans typeface Redonda.
EXTERNAL LINKS
Carlos Mignot
Behance page
MyFonts search
Monotype search
Fontspring search
Google search

INTERNAL LINKS
Type designers ⦿ Type designers ⦿ The Brazilian type scene ⦿ Blackletter fonts ⦿ Corporate typefaces ⦿ Art deco typefaces ⦿ Corporate typefaces ⦿ Stencil fonts ⦿ Cyrillic type design ⦿ Type for TV ⦿