Bagerich Type Foundry (was: Zealab Fonts Division, Zea Fonts, Zea Lab, Zeaspace) [Reza Rasenda]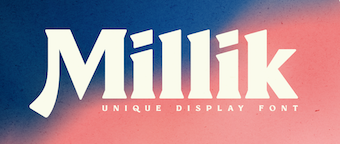 Founded in Bandung, Indonesia in the middle of 2019 by graphic designers Reza Rasenda (b. 1993) and Riska Chandra Dewi, Zealab Fonts Division specializes in and is inspired by urban culture, luxurious brands and street posters. Reza Rasenda designed these typefaces in 2020: Crenzo (a free sci-fi typeface), Pherome (a fashion-conscious display serif), Arguman (an aerodynamic or speed font), Oldblue (an interlocking retro font), Digitany (pixelized), Ethique, Brightfate (with Riska Candra Dewi; a sharp-edged typeface that conjures up images of a guillotine), Bagerich (an art nouveau genre display typeface by Reza Rasenda and Riska Candra Dewi), Digitany (pixelish), Rigeko (a refreshing display typeface), Chillion (in the heavy rounded serif genre), Anglestein (a sans inspired by retro car and amplifier lettering), Millik (a sturdy angular poster typeface), Bellinzo, Shirens, Roundlane, Oldblend (a 4-style circle-based sans family, possibly renamed Oldblue), Richson (a sans inspired by pop punk, rock, hardcore music and skateboarding), Airbolt (a futuristic racing font), Roseford (a display typeface), Qultiva (a display typeface), Ethique, Hochland (tall, condensed, urban), Rodenberg (a beer bottle font), Aveline (a display serif), Quilla, Monschone (a fashion mag sans in one style).
Typefaces from 2021: Neima (a decorative serif), Nagoda, Chuten (a display typeface), Ephidona (a decorative serif), Claycozoa (an intestinal typeface), Elgista (incised and hipsterish, with mostly trapezoidal stems), Amovand (a decorative serif), Willton, Olieva, Waffold, Bogam (a great free black display font), Voca (brutalist, in their view), Gover (a gaspipe sans, +stencil), Agne (a decorative serif).
Typefaces from 2022: Vifellia (an experimental condensed display serif, in which the left side serif is curved and the right side serif is straight).
Type Department link for Zealab. Type Department link for Bagerich Type Foundry.
Typefaces from 2022: Guffonia (a hyper-decorative hipster typeface), Baunk (futuristic).
EXTERNAL LINKS
Bagerich Type Foundry (was: Zealab Fonts Division, Zea Fonts, Zea Lab, Zeaspace)


[Buy fonts]


[Designer info]
Fontbundles link [Buy fonts]
Dafont page
Behance page
Creative Market page
MyFonts search
Monotype search
Fontspring search
Google search

INTERNAL LINKS
Commercial fonts (small outfits) ⦿ Type design in Indonesia ⦿ Type designers ⦿ Type designers ⦿ Fashion mag typefaces ⦿ Futurism ⦿ Sci-Fi fonts ⦿ Circle-themed typefaces ⦿ Sites with only a few free fonts ⦿ Pixel/bitmap fonts ⦿ Art Nouveau typefaces ⦿ Stencil fonts ⦿ Brutalist typefaces ⦿ Gaspipe fonts ⦿ Hipster fonts ⦿ Experimental type ⦿