Zeh Foundry [Seryozha Rasskazov]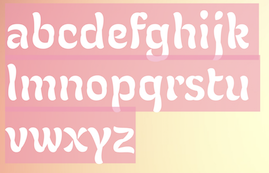 Seryozha Rasskazov is a graphic and type designer, lettering artist, and sign painter from St. Petersburg, Russia, who studied at ECAL's Master in Type Design program in Lausanne, 2020-2022. Under the supervision of Kai Bernau, he designed the optically optimized variable didone stencil typeface Didonist (2021).
We believe that he created the art nouveau typeface Flory (2021) at Zeh Foundry. He may also have been involved in the development of the Latin / Cyrillic hipster family Russian Tourist Brand (2021).
EXTERNAL LINKS
Zeh Foundry
MyFonts search
Monotype search
Fontspring search
Google search

INTERNAL LINKS
Type designers ⦿ Type designers ⦿ Modern style [Bodoni, Didot, Walbaum, Thorowgood, Computer Modern, etc.] ⦿ Type design in Russia ⦿ Type design in Switzerland ⦿ Stencil fonts ⦿ Variable fonts ⦿ Cyrillic type design ⦿ Art Nouveau typefaces ⦿ Commercial fonts (small outfits) ⦿