Cinketype [Tibor Szikora]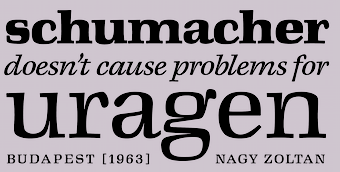 Tibor Szikora is a Budapest, Hungary-based type designer specializing in custom typefaces and lettering. He runs Cinketype. His typefaces:
Kass (2021). An informal typeface that was based on the handwriting and etchings of Hungarian illustrator Janos Kass.
Crow Script (2021). A display typeface with calligraphic Dr. Caligari-style roots.
Margaret Neue (2021). Inspired by Zoltán Nagy's Margaret from 1963.
Szikora Sans (2021). A humanist sans.
Luttor Variable (2020): This type family was inspired by the prim, but quirky, familiar, but often surprising letterforms of Ignac Luttor's writing system, the so-called Zsinoriras', from the late 1930's Hungary. The main source of inspiration was the first figure in the booklet "A Luttor-fele uj irasmod" [1936], where he compares the three levels of his writing system, from an unconnected, printed style to a connected, cursive hand.
Cinke Sans (2021). A workhorse sans used on his own web site.
EXTERNAL LINKS
Cinketype
Behance page
MyFonts search
Monotype search
Fontspring search
Google search

INTERNAL LINKS
Type designers ⦿ Type designers ⦿ Type design in Hungary ⦿ Commercial fonts (small outfits) ⦿ Comic/cartoon fonts ⦿ Variable fonts ⦿ Corporate typefaces ⦿