Talbot Baines Reed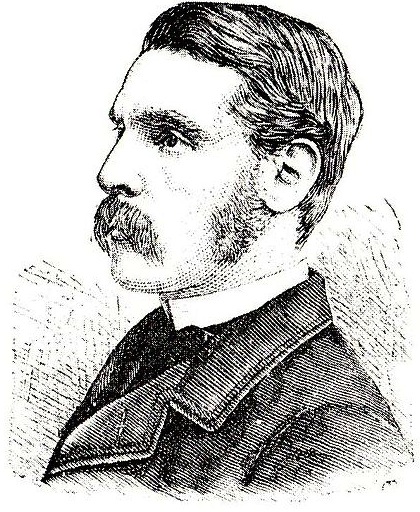 Talbot Baines Reed (1852-1893) was an English writer of boys' fiction who established a genre of school stories that endured into the second half of the 20th century. Among his best-known work is The Fifth Form at St. Dominic's. He was a regular and prolific contributor to The Boy's Own Paper (B.O.P.), in which most of his fiction first appeared. Through his family's business [his father was Sir Charles Reed], Reed became a prominent typefounder, and wrote the celebrated text A History of the Old English Letter Foundries (Faber and Faber Limited, London, 1887).
From Wikipedia: Reed's father, Charles Reed, was a successful London printer who later became a Member of Parliament (MP). Talbot attended the City of London School before leaving at 17 to join the family business at the Fann Street type foundry. His literary career began in 1879, when the B.O.P. was launched. The family were staunchly Christian, pillars of the Congregational Church, and were heavily involved in charitable works. However, Reed did not use his writing as a vehicle for moralising, and was dismissive of those early school story writers, such as Dean Farrar, who did. Reed's affinity with boys, his instinctive understanding of their standpoint in life and his gift for creating believable characters, ensured that his popularity survived through several generations. He was widely imitated by other writers in the school story genre. In 1881, following the death of his father, Reed became head of the Fann Street foundry. By then he had begun his monumental Letter Foundries history which, published in 1887, was hailed as the standard work on the subject. Along with his B.O.P. obligations Reed wrote regular articles and book reviews for his cousin Edward Baines's newspaper, the Leeds Mercury. He was busy elsewhere, as a co-founder and first honorary secretary of the Bibliographical Society, as a deacon in his local church, and as a trustee for his family's charities. All this activity may have undermined his health; after struggling with illness for most of 1893, Reed died in November that year, at the age of 41.
Early in his career he met the leading printer and bibliographer of the day, William Blades, from whom he acquired a lasting fascination with the printing and typefounding crafts. While still relatively inexperienced, Reed was asked by Blades to help organise a major exhibition to mark the 400th anniversary of William Caxton's printing of The Game and Playe of the Chesse. This was thought to be the first book printed in England, and the exhibition was originally planned for 1874. However, Blades's research proved that Caxton's first printing in England had in fact been in 1477, of a different book, so the quatercentenary celebrations were rescheduled accordingly. The exhibition was held during the summer of 1877, at South Kensington, and was opened by William Gladstone, the former and future prime minister. It included displays of Caxton's printed works, together with many examples of printing through the intervening years. Reed's main contribution was to the exhibition's catalogue, for which he wrote an essay entitled "The Rise and Progress of Typography and Type-Founding in England". The exhibition was supported by leading London printers, publishers, booksellers, antiquarians and scholars, and attracted wide public interest. Sir Charles Reed, who had been knighted on Gladstone's recommendation in 1874, died in 1881. A few months later, Talbot's elder brother Andrew retired from the business because of ill health. As a result, at the age of 29, Talbot became the sole managing director of the Fann Street business, a position he held until his death. This was, however, by no means Reed's sole activity in connection with the trade. In 1878, in response to a suggestion from Blades, he had begun work on a general history of typefounding in England, a task which occupied him intermittently for ten years. Published by Elliot Stock in 1887 under the title of History of the Old English Letter Foundries, the book became the standard text on the subject. Its 21 chapters are illustrated throughout with examples of typefaces and symbols used for four centuries. The text is presented in modern style, but with the initial letter of each chapter ornately drawn from a 1544 pattern. Also in 1887 Reed produced a revised and enlarged specimen book for the Fann Street foundry, with many new typeface designs and artistic ornamentations.
EXTERNAL LINKS
Talbot Baines Reed
MyFonts search
Monotype search
Fontspring search
Google search

INTERNAL LINKS
History of type ⦿ Books on type design ⦿ Type design in the United Kingdom ⦿ Caxton ⦿