Lubalin Graph [Herb Lubalin]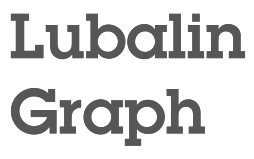 From the ITC site: ITC Lubalin Graph is based on the ITC Avant Garde Gothic typeface. The design of ITC Lubalin Graph stemmed from a need for a flexible Egyptian alphabet that was suitable for the phototypesetting technology of the 1970s. The original roman typefaces were designed by Herb Lubalin and drawn by Antonio DiSpigna and Joe Sundwall. The oblique versions were designed by Herb Lubalin and drawn by Ed Benguiat. The condensed versions were developed in 1992 by Helga Jörgensen and Sigrid Engelman.
There are versions of this idiosyncratic slab serif typeface by ITC and Adobe. In 2013, Svetoslav Simov created a lookalike extension of Lubalin Graph called Nexa Slab. In the same style, we also find Kettering 105 (2012) and Kettering 205 by Adrian Talbot. For alternates, see APT Lubalin Graph Alternates (1997, Alan Prescott).
Posters of Lubalin Graph include a set by Benjamin Schmidt (Columbus, OH) in 2014.