Photo-Lettering Inc. [Edward Rondthaler]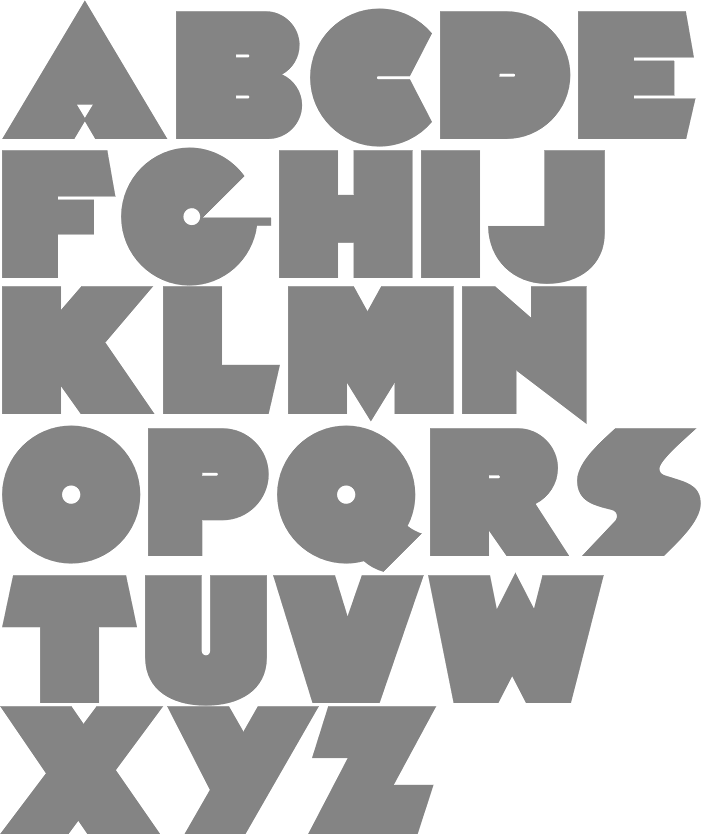 New York based photocomposition, lettering and digital type business active from 1936-1997, cofounded by Harold Horman and Edward Rondthaler in 1936 (in 1928, but only open for business in 1936). Its designers included Bob Alonso, Vincent Pacella, Vic Caruso, Herbert Post, Holly Goldsmith, and Ed Benguiat. It sold type drawn by the likes of Herb Lubalin, Milton Glaser, Seymour Chwast and many others. It was one of the earliest and most successful type houses to utilize photo technology in the production of commercial typography and lettering, employing over 200 people at its peak. It folded ca. 1990. Ed Benguiat: The alphabet styles in this collection, many of which took over 200 hours to complete, were drawn with pen and ink to exacting standards by veteran lettering artists. I know....during my 35 years employed by Photo-Lettering I produced over 500 complete fonts. In all, 6500 fonts were produced. A partial time line was offered by Peter Bain (italics are quotes from Bain):
World War II: Photo-Lettering was a combination of aesthetic, technical and marketing efforts. Horman was a competent letter designer, Rondthaler an experienced typographer; both they and the other staff shared a keen interest in mechanical devices. Photo-Letterings initial client, advertising agency J. Walter Thompson, was brought in by their corporate parent. It was the Rutherfords always freshly exposed characters, precision variability, and consistency that kept the agency as a client. The firms initial stock of typefaces was built both by Horman and by photographing existing metal designs. During World War II the firm supplied headlines for wartime posters. The full capabilities of the process became steadily realized. The ability to italicize, reproportion, outline, and add weight to type increased the attractiveness of Photo-Letterings service.
1944: In 1944 Tommy Thompson, perhaps the pre-eminent New York lettering designer of the day, approached Photo-Lettering. He had been asked by The Saturday Evening Post, a national weekly, to furnish hand-drawn lettering in a consistent, distinctive style for their headlines and bylines. The volume made a compelling case, and a royalty agreement, the first with an outside artist, was made. From this beginning, the type library at Photo-Lettering tapped into a pool of lettering artists who ordinarily would not have had their work become type.
1946: Publication of a catalog with 979 alphabets called Photo-Lettering's Basc 979 Alphabets. Most of the original designs were by Harold Horman, including the ten-weight Photo-Futura Condensed (based on a Bauer typeface). Other early designers included J. Albert Cavanagh and M. M. (Dave) Davison (who made Spencerian types).
1950: The 1950 catalog features the Pete Dom series in three weights, Twixt, Husky and Darky. Bain comments: Peter Dombrezian's highly skilled, informal brush-written type was furnished with numerous alternates. There were at least three versions of each capital and lowercase letter, and two sets of figures for the Twixt weight alone. The restricted number of alternates offered by metal typefounders, combined with the handmade competition, may well have encouraged early display phototype families to be as expansive as possible. In the case of ATFs Dom Casual, completed in 1952, the more reserved letters from the Twixt were chosen for metal type. Other designers mentioned in the catalog include Alfred Bosco, Hollis Holland, Oscar Ogg and Tony Stan. The catalog lists 1631 typefaces.
1960: Publication of Alphabet Thesaurus Nine Thousand. This catalog has over 700 pages. Contributing letterers and artists for the 1960 book include Josef Albers, Alexey Brodovitch, J. Albert Cavanagh, Joseph Binder, Edward P. Diehl, Harold Hite, Harry Winters, Albert E. Nolan, Albert Soroka, Charles J. Freericks, George Suman, Herbert Feuerhake, Pete Dom, Gustav V. Meidel, William H. Millstein, Emil A. Schaedler, M. M. Davison, Tommy Thomson, C. E. Coryn, Tony Stan, George F. Trenholm, Sol I. Immerman, Oscar Ogg, Edwin W. Shaar, Garnett Megee, Herman Spinadel, Hollis Holland, Saul Haupt, Denis A. Edridge, Sidney Lisson, Sol Nodel, J. J. Karle, James D. Brooks, Victor Lamkay, Nasri Khattar, Alfred R. Bosco, John A. Karafa, Milton Crown, L?~@~YHarl Copeland, David B. Hills, Milton K. Zudeck, Melvin M. Tuch, M. R. Kaufmann, Maximilian R. Kerr, S. E. Norton, Frederick Blakeslee, Arthur Ohlman, George Piscitelle, Rodolfo Wallenberg, John S. Allen.
1965: A 970-page catalog with 5474 typefaces is published. Of these, 146 appear to be exclusive.
1970: Ed Rondthaler cofounds ITC with Herb Lubalin and Aaron Burns. Bain: Ed Benguiat, a longtime letterer and type designer at Photo-Lettering, became known for his renovation of The New York Times masthead, and for his typefaces released by ITC. The growing success of computerized composition offered stylistic and financial incentives for new typefaces that could be used for display as well as text. ITC was well positioned to exploit that opportunity worldwide. This connection with ITC leads to many ITC typefaces with roots in Photo-Lettering.
In 2003, the entire collection was bought by House Industries. Its fonts included ITC Flatiron (a very wide caps typeface published by ITC in 1997), BenguaitCharisma (1993), FourthOfJuly (1992), Swinger (1992), Parchment (1993), ITC Musica (1996, which was Bel-Canto at Photo Lettering in 1968), and ITC Static (1996; called Bounce at Photo Lettering).
Photo-Lettering Collection Revival link at MyFonts.
View their typeface library. More images of digital typefaces based on the Photo-Lettering collection.
EXTERNAL LINKS
Photo-Lettering Inc.


[Buy fonts]
MyFonts search
Monotype search
Fontspring search
Google search

INTERNAL LINKS
Extinct 20th century foundries ⦿ Photo and film type era ⦿ Type scene in New York ⦿ Brush script typefaces ⦿ Penmanship ⦿