Richard Beatty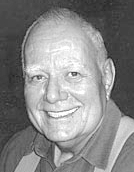 Richard Beatty (Colorado) died on May 14, 2018. He made beautiful fonts, often revivals and interpretations of old typefaces and calligraphic designs, and was influenced by Frederic Goudy. In the 1990s, he operated as Richard Beatty Designs, making over 500 typefaces. Most were only for private or corporate use. Richard's typefaces:
Baxter New Style (1988), Baxter Old Style (1988)
Beatty Victoriana (1991): a set of five Victorian era fonts---Wanted, Spiral, Recherché, Hermosa and Childs (1985). Hermosa and Childs are nearly art nouveau. Childs is a revival of an 1892 typeface by Hermann Ihlenburg. Puzzling note: the Linotype catalogue says that Kismet was designed in 1879 by John F. Cumming. When you look at Spiral by Richard Beatty, you find a close copy of Kismet; Beatty says it's an "edited version of Kismet", but he holds the copyright. Is this another case of legal cloning? Finally, Wanted is based on an ATF typeface, Fantail, that was already shown in 1889 by the Franklin Type Foundry.
Benjamin (2002, BeattyType): from sketches by Ed Benguiat.
BernardsHand (beautiful medieval hand)
Borders (1990, some designed by R. Mitchell and R. Beatty)
Calligraph Initials (1997): a Lombardic face.
Childs. After a design from 1893 by Hermann Ihlenburg.
Civilite
Cooper
Doric
Doves Type (2006). After the famous Venetian typeface designed by Emery Walker and T.J. Cobden-Sanderson, 1900.
Duchy Blackletter, Duchy Initials (2002): A blackletter typeface based on a sketch by Ed Benguiat of Benton's Dutch Initials.
Elizabeth RB. After Frederic Goudy, 1900.
Elizabeth (1994, BeattyType): An all caps almost uncial face.
Fanny Mitchell, Fanny Mitchell Initials (2005).
GeneralMenou
Goodhue (2005).
Goudy Claremont (1993: based on Scripps College Old Style, 1941).
Goudy Italian Old Style (1992).
Goudy Mediaeval (1992).
Goudy Saks (1990: based on a typeface designed in 1934 by Goudy for Saks Fifth Avenue in New York).
Hermosa (1991). a Victorian typeface.
Kennerley Old Style (1986, after Goudy's 1911 design)
Jensen Eusebius, Jensen Eusebius New Style (1989). A Venetian typeface.
11LivingstonJCL
Lucianard
Mediaeval Calligraphy
Ornaments (based on 1928 figures drawn by E. Adler)
Overdressed (2002): based on a sketch by Edward Benguiat for his Phototype Company.
Prairie Poster (Plain, Fancy): arts and crafts face.
Quillsong (calligraphic)
Recherché (1991). A curly Victorian typeface.
Rene Louis (1992)
Rolls Royce.
Spiral (1991). Revival of John F. Cumming's Victorian typeface.
Troyer
University Old Style. After Frederic Goudy, 1938.
Velda (2005, connected hand): the handwriting of Velda Burgess Will, classmate of the designer.
Wanted RB (1991). A western font.
White Tie, White Tie Relaxed (2005): roman lettering.
EXTERNAL LINKS
Richard Beatty
Klingspor Museum page
MyFonts search
Monotype search
Fontspring search
Google search

INTERNAL LINKS
Commercial fonts (small outfits) ⦿ Western fonts ⦿ Type designers ⦿ Type designers ⦿ Dingbats (original) ⦿ Ornamental caps typefaces ⦿ Handwriting fonts ⦿ Art Nouveau typefaces ⦿ Type scene in Colorado ⦿ Blackletter fonts ⦿ Calligraphic typefaces ⦿ Arts and Crafts Movement ⦿ Lombardic types ⦿ Victorian typefaces ⦿ Civilit&eacute ⦿ Uncial typefaces ⦿ Frederic William Goudy ⦿ Curly typefaces ⦿