Robert Granjon [Jacques de Sanlecque the elder]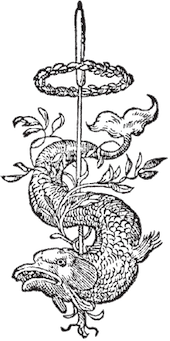 Born in Rome, Robert Granjon (1513-1589) worked for various printers in Lyon, Paris, Frankfurt, Antwerp, and Rome. In Lyon, he was active as librarian, printer, and engraver of typefaces. Granjon is an exponent of the French renaissance. Granjon's designs live on in the balanced Plantin family, designed by Frank Hinman Pierpont in 1913 at Monotype, and available at Linotype (and elsewhere).
The Gothic italic typeface Civilité (1566; some say 1557) is also due to him. The first book in this typeface was Dialogue de la vie et de la mort by Ringhieri (1557). The first modern metal version of Civilité is due to Morris Fuller Benton (1922, ATF). Among the digital versions, Ralph M. Unger's Civilité (Profonts / URW++) is noteworthy.
W.A. Dwiggins' Eldorado (1953) was based on an early roman lowercase of Granjon. Font Bureau's Eldorado (1993-1994), developed by David Berlow, Jane Patterson, Tobias Frere-Jones and Tom Rickner for Premiere Magazine, was a far-reaching extension of that.
Brigitte Schuster did a revival of Monotype Plantin at KABK in 2010.
In 1578, he moved to Rome, where he worked on types for Oriental characters needed by the Catholic missionaries: Armenian (1579), Syriac (1580), Cyrillic (1582), and Arabic (1580-1586). He collaborated with Giambattista Raimondi, the scientific director of the Stamperia Medicea Orientale, and Domenico Basa, the technical director of the Stamperia Vaticana, and contributed the earliest printed editions in certain Oriental languages. He also created a Greek typeface, Parangonne Grecque.
The Linotype Granjon typeface designed by George W. Jones in 1928 is a Garamond though---Jones used Granjon's work as a model for his italic---, and the name seems to suggest that Granjon created the model for this garamond, which is not the case. Image of Linotype's Granjon. For related typefaces, see ITC Galliard (1978, Matthew Carter). In 2020, Aad van Dommelen released his 4-style revival of Granjon's Ascendonica as Romaine at Fontwerk. He writes: There are two digitizations of Granjon Ascendonica available: the previously mentioned Granjon LT [by Linotype: it deviates too much from the original and shows some inconsistencies] and Matthew Carter's ITC Galliard. Carter's version is quite rightly very popular and widespread, but he allowed himself significantly more freedom, especially with the italic. The fine details of the template led to a special feature of Romaine. While all other digital Garamonds or Granjons have rounded or cut serifs, Romaine has sharp ends.
In 2021, Juanjo Lopez published his Graveur, which was based on original artifacts by Granjon kept in the Plantin-Moretus Museum in Antwerp. Also noteworthy is the Granjon-inspired text family Allrounder Antiqua (2020) by Moritz Kleinsorge, who was able to experience first-hand Granjon's work in the Plantin Moretus Museum in Antwerp.
References include Maurits Sabbe and Marius Audin: Die Civilité-Schriften des Robert Granjon in Lyon: und die flämischen Drucker des 16. Jahrhunderts. [This is Vol. 3 of Bibliotheca Typographica, 1929].
Images of digital typefaces that descend from Granjon's work.