Doyald Young: Logotypes and Letterforms [Doyald Young]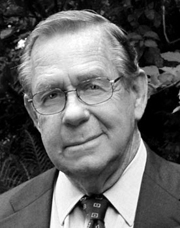 Graphic designer, typographer, type designer, author, teacher and lecturer, born in 1926 in Holliday, TX. He died on February 28, 2011 due to complications following a recent heart operation. He attended Los Angeles City College, Los Angeles Trade Technical Jr. College, and Art Center College of Design where he has taught for 27 years and holds the honorary title Inaugural Master of the School. Doyald drew characters, often of a calligraphic or handlettered nature. He was deeply influenced by his mentor, Hermann Zapf.
Steve Heller writes: When digital programs like Fontographer made it easy for anyone with a computer to create typefaces, many of them purposefully inelegant, he advocated a high level of craftsmanship that he believed had been lost. In so doing, Mr. Young challenged a new generation to reject so-called grunge design in favor of precision. When the American Institute of Graphic Arts awarded Young its 2009 Medal for Lifetime Achievement, Marian Bantjes wrote Taste. Practicality. Formality. Understated prestige. The combination of those qualities forms as perfect a descriptor of Young's work as any you are likely to find, both in the process and the result. Although he is widely known for his elegant curves and scripts, he has never been a showy designer---there is not a trace of ego in his work. The range of letterforms able to flow at any time from his hand is great, and there is no way to particularly define Young's mark unless you have seen the hand-drawn comp. That is where his work is unmistakable: perfect letterforms drawn in pencil at a surprisingly small size without so much as a mark of hesitation or awkwardness. The style varies but the fluidity and perfection do not.
Links and media: Scott Erickson's movie on Doyald Young. FontShop link. Klingspor link. Short obituary and video. Longer video about his life. Steven Heller's obituary in the New York Times. Obituary by Marian Bantjes for AIGA.
He was adored and respected for his craft and gentleness. Portrait. Another portrait (credit: Louise Sandhaus). Author of several influential texts:
Logotypes and Letterforms (1993, Delphi Press). Review. It includes the corporate typefaces and original and revised logotypes he created for General Electric, Sony, Hilton International, John Deere and other businesses. Steve Heller: It was well received by designers for its defiance of fashionable trends.
Fonts&Logos (1999, Delphi Press, and 2000, Sherman Oaks). A book of examples, it includes many logos designed by him for the cosmetic, fashion and entertainment industries. Review. Bette Midler logo (2002). Grammy Awards logo (1988). Prince, The Hits Collecton, cover (2000). Sinatra, The Man and his Music TV Special (1981). Logo for Apex Engraving (1974).
The Art of the Letter (2003, Smart Papers, Hamilton, Ontario).
Dangerous Curves Mastering Logotype Design (2008, Delphi Press). Delphi Press was his own company.
His typefaces include the extra bold condensed sports scripts fonts Home Run Sanscript (1999) and Home Run Script (1999, a connected bold retro signage script), Young Gallant (2010, a formal calligraphic script based on the alphabets his teacher, Leach, trained him on), ITC Eclat (1985, 1992, fat script face, which was used for titles by Comedy Central and the Queen Latifah movie Beauty Shop), Young Finesse (2003, an Optima-inspired thin headline typeface used in his book, Fonts&Logos), Young Finesse Italic (2006), Guts (1976, VGC), and Young Baroque (1984, 1992, Letraset; calligraphic Spencerian copperplate script; this is copied by Castcraft as OPTI Yen Script).
EXTERNAL LINKS
Doyald Young: Logotypes and Letterforms


[Buy fonts]


[Designer info]
Monotype link
Monotype foundry link
Klingspor Museum page
MyFonts search
Monotype search
Fontspring search
Google search

INTERNAL LINKS
Books on type design ⦿ Calligraphic typefaces ⦿ Type designers ⦿ Type designers ⦿ Type scene in California ⦿ Type scene in Texas ⦿ Photo and film type era ⦿ Typefaces related to radio ⦿ Uncial typefaces ⦿ Commercial fonts (small outfits) ⦿ Signage typefaces ⦿ Penmanship ⦿ Copperplate ⦿