Tracer Tong (was: WhoAmI Type&Design) [Paul Reid]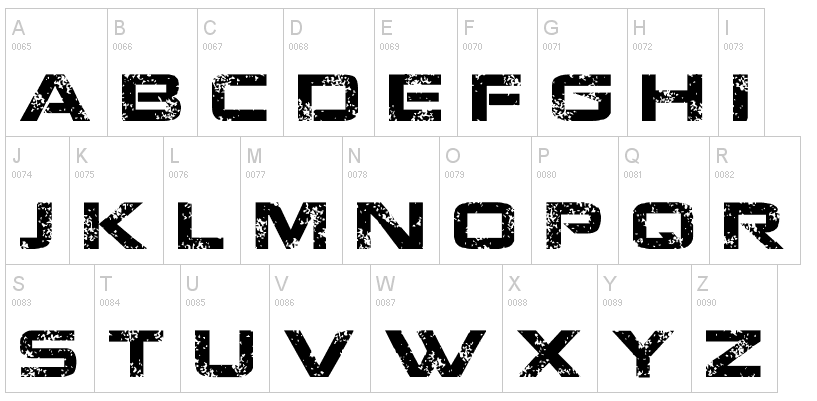 Beautiful original fonts (freeware, shareware) by Glasgow-based Paul Reid, aka Tracer Tong. A partial list: Vannoidyk (2012, techno), Xiaxide (2012, circuit simulation typeface), Cursed Law (2012, grunge), Pixcel (2012), Ablattive (2012), Scratch To Reveal (2011), Techno Hideo (2011), High Score Hero (2011, horizontally striped glyphs), Hunter Squared (2011, a sci-fi typeface based on the movie The Predators), Nioc tresni (2011, dot matrix face), Lightman (2011, texture/[ixel family), Coalition (2010, a charcoal face), OhMyGod, Stars&Moons, Arrgh, Blokk, BulletHolz, DriftTypeSolid, DriftType, Emoticons, Encounter, FilmStrip, LiandriBETA, MatrixSchedule, OhMyGodStarsMoons, PixelBlock, Serifsy, TroubledGenius, WhereCracksAppear, ZX Font Pack (pixel typefaces), Dyers Eve, DecayedOptical, DirtyHead, DumbAss, Fade2Back, GameLogos (2003), HobbesFriend, InvisibleKiller, Obliquo, OhMyGodStars, Stryx, VenetiaMonitor, Gothikka, MedicationNeeded, Recognition, RecognitionNekkid, SeeTheBeast, Shredded, SirClive, Sucaba, WhatPossUse, ZX81, ZXSpectrum, Rekkoy (font with embedded Morse code), Staley (Alice in Chains), Abstrakt (nice!), Pliskin Snake Eyes (2006, a John Carpenter movie credit font), Top Billing (2006), Unrealised (2008), Steel Tongs (2006, an adaptation of Larabie's Steelfish), Playstation Buttons, Dirtyhead, Dumbass, Fenix Blackleter Caps (2011), Fade2Back, Gothikka, HobbesFriend, Invisible Killer (1997), Luggerbug, (the Gallahad inspired font) Mordred, Recognition (a barcode type font), See the Beast (crosshaired letters), ZX-Spectrum Keyboard, Steeltongs, Stigmata (this will be a classic display font!), DropCaps, Springfield Mugshots (dingbats), Intergalactic Megastar (2007, based on Digital Strip by Blambot), Jacinto Sans (2009, grungy typeface based on the titles for Gears of War), Universal-Accreditation (2006, condensed sans).
At Dafont, we find these fonts: BulletHolz, Coalition, DriftType-Solid, DriftType, DropCapsSans, DropCapsSerif, DumbAss, Dymeda, Gothikka, InvisibleKiller, JacintoSans, LiandriBETA, LuggerBug, MedicationNeeded, Obliquo, OhMyGodStars, PhatBoySlim-Bold, PhatBoySlim-BoldItalic, PhatBoySlim-Italic, PhatBoySlim, PhatboySlim Rough, Phatboy Slim College, PlaystationButtons, SeeTheBeast, Serifsy, Shredded, SpringfieldMugShots, Spyh, Sucaba, TroubledGenius, UniversalAccreditation-Italic, UniversalAccreditation, Unrealised, USPF Liberty (2018: a starship font), VenetiaMonitor, ZX81, ZXSpectrum.
Links: Typoasis site. Mirror site. Alternate page. Dafont link. Dafont link #2. Fontspace link. Klingspor link. Abstract Fonts link.
EXTERNAL LINKS
Tracer Tong (was: WhoAmI Type&Design)
Dafont page
Fontspace page
Klingspor Museum page
MyFonts search
Monotype search
Fontspring search
Google search

INTERNAL LINKS
Dingbats (original) ⦿ Sites with only a few free fonts ⦿ Type designers ⦿ Type designers ⦿ Morse fonts ⦿ Ornamental caps typefaces ⦿ Smilie Fonts ⦿ Type in Scotland ⦿ Athletic lettering faces ⦿ Pixel/bitmap fonts ⦿ Textured typefaces ⦿ Circuit board typefaces ⦿ Sci-Fi fonts ⦿