Studio Hollenstein [Albert Hollenstein]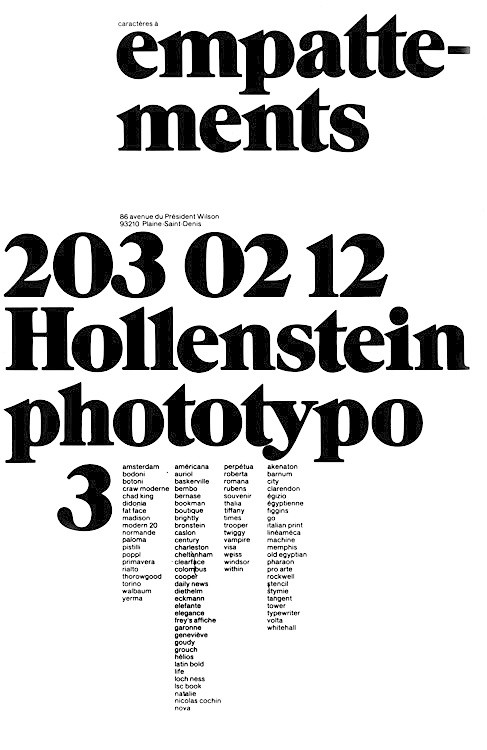 Albert Hollenstein is a Swiss type designer, b. Luzern, 1930, d. Vernazza, 1974. He ran Studio Hollenstein in Paris, which specialized in photographic display typefaces. It was operational between 1957 and 1978.
Hollenstein designed Pointille (1975, VGC), Siris (Hollenstein Phototypo, 1972), Tivi (Hollenstein Phototypo, 1968), Brasilia (ABM Hollenstein, 1960, with Albert Boton), Primavera (ABM Hollenstein, 1963, with Albert Boton), Rialto (ABM Hollenstein, 1960, with Albert Boton). With Albert Boton, he designed ITC Eras (1976). ITC Eras, a weird high x-height and open-bowled-a fashion victim of the 1970s, was inexplicably copied by many: Ennis (Infinitype), E820 Sans (Softmaker), Incised 726 (Bitstream), ER (itek), Erie (Corel).
Catalog of the serif typefaces at Hollenstein Phototypo. Hommage by Peter Gabor. FontShop link. Klingspor link.
EXTERNAL LINKS
Studio Hollenstein


[Buy fonts]


[Designer info]
Monotype link
Klingspor Museum page
MyFonts search
Monotype search
Fontspring search
Google search

INTERNAL LINKS
Type designers ⦿ Type designers ⦿ Type design in Switzerland ⦿ Photo and film type era ⦿ Extinct 20th century foundries ⦿ Type design in France ⦿