Harris Design [James M. Harris]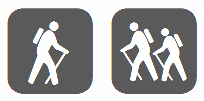 James M. Harris' Colorado Springs, CO-based foundry sells five fonts designed by himself, SignPix (1, 2, 3, 4), Earth Font One (1993), PictographOne (1996), and Strasbourg (blackletter) through Fonthaus and Agfa/Monotype. It specializes in tourist and road signs. Harris Design will turn your logo into a (TTF or type 1) font. List of fonts.
Jim Harris made the old shareware fonts Bellerose (1992, an avant-garde face: poster by Benbouzid Fatim-Zohra), Bellerose Pro (various weights are done in 2016), Mazama, Premium Thin, RhyoliteVertical (1990) and Andesite (1991) which can be found on many archives. He also made Harris Modern Extended.
Old home page. Creative Market link. Dafont link. FontShop link.