RailFonts.com [Benn Coifman]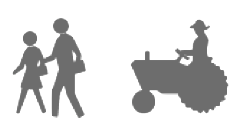 Benn is an electrical engineering professor at Ohio State. Benn Coifman's site specializes in commercial railroad train and train lettering fonts. Also included (for free) are a crossword font, a population font, a car font, and a cartography font, all designed by Ben. Check RoadSign, a complete collection of US road signs. He also has a 1940s automobile font, the text font Rio Grande (1998) and a WWII plane font. He also made the BankGothic lookalikes Gotthard and Zephyr. Other designers at RailFonts are Clifford J. Vander Yacht, Randal O'Toole and Otto M. Vondrak.
The typefaces: 1940s Autos, Alaska Railroad, Alphabet Train, Atlantic - New Haven, Atlantic Alternate, BNSF Narrow 1X, Boxcars, Burlington, Car, Chesapeake, Chesapeake Alternate, Chesapeake Roman, ChesC, City of Font, Clinch Narrow Roman, Clinch Roman, Consolidated, Crossword, Daylight Series (1937; 1947; 1958), Egyptian, Empire Builder, Extra Gray, F7 Profile, FastTrak, Freight, Gotthard, Grand Central, Great Western, Heavyweight, Illinois Central, Illinois Central Alternative, Jade Green, LaGrange, Lehigh Valley, Marquette Roman, Maryland, Milwaukee Road Herald, Milwaukee Road Station & Wayside, MISC Railroad, Modern Herald, Modern Passenger, Monon Route, More Rail Art, Nickel Plate, Northwestern RR Roman, NP RR Roman, Passenger, Pennsylvania 1930s, Pennsylvania Wayside, Rail Art, Rail Dingbats, Railroad Heralds, Railroad Roman, Randals Mac Icons, Reading, Rio Grande, Roads, RR Sign, Seaboard, Seaboard Block, Signals, Signals Second Section, Southern Pacific Daylight, Southern Pacific Extended Roman, Southern Pacific RR Roman, Steam Locomotives, Steam-1880, Streamliner, Street Sign, Texas Special, Train Overhead, Train Tracks, Transit Silhouettes, US Army Transportation Corps., Warbirds, Zephyr.
Fonts by Pete Willard: BC Rail, Bessemer, BNSF, Car Knocker, Chessie, DRGW, Efliner, Erie Roman, Eurida, GoForIt, IC Logo, KCS, Lifesaver, Midland, NS, Pen Station, Rail Road Number Board 1, Rail Road Number Board 2, Rail Road Number Board 5, Rail TNK 1, RR Stencil, Seaboard, Sirbarry, Square1, STD Gothic Narrow, Tex Spec, TTX.
EXTERNAL LINKS
RailFonts.com
Dafont page
Fontspace page
MyFonts search
Monotype search
Fontspring search
Google search

INTERNAL LINKS
Dingbats (original) ⦿ Type designers ⦿ Type designers ⦿ Map/Travel dingbats ⦿ Type scene in Ohio ⦿