TypeArt Foundry (or: Digiteyes Multimedia TypeArt Foundry) [Lloyd Springer]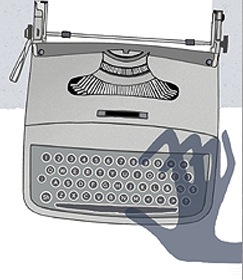 TypeArt is the commercial foundry of Lloyd Springer (Vancouver), est. 1992. His typefaces from before 2003:
Bitmap fonts: CitymapRounded, LoveBytes, Letterstitch.
Comic book: Disorder, Scratchpad, Sideshow, Superhero, Verbal Cues, Balloons, Buffalo Joe, Frontline.
Western: Outlaw, Eastside.
Typewriter: Courier Ragged, Double Hitter, Firenza, Keystoned, Romanstone, Streetwise, Writing Machine, Firenza Text, Dear John.
Stencil: Mediocre, Boxcar.
Serif: Burlington (1997, roman caps only), Miracolo (2002, art nouveau), Saltzburg (1999, a bit art nouveau), Steinburg Modern, Sundance.
Script: Prints Charming, Sideshow, Dream Lover, Falcon Casual, Falcon Brushscript.
Fifties: Golden Age, Golden Day, Flingaling.
Monster: Braindead, Horror Show, Junglemania, Newman, Frankenstein, Frontline, Mixed Breed.
Label type: Dimeotype, Label Gun, Liteweit, Silverscreen (1998, a condensed sans ideal for movie credits), Total Disorder, Letterstitch.
Inline: Puzzler, Scratchpad, Steelyard.
Grunge: Amnesia, Bellamie, Bighead, Braindead, DeviantStrain, DoubleHitter, DoubleVision, Fingerprint, LabelGun, Meanstreak, Phantom, Poorsport, Social Menace, Streetwise, TotalDisorder, Mixed Breed, Tapeworm, Typochondriac.
Display and decorative fonts: Niteweit, PostIndustrial, Tolstoy (1996, art deco), WhatTheHell, Xheighter, Bossman, Eucaliptus (art deco), Fishboners, Strangelove (1999), Charbonne (art deco), Reerspeer (2002), Freakshow, Underground, Tipemite, Spaced Out, Sunday Best, Eye Doctor, Foreign Language, Hammerhead, Sidewalker, Wendy Woo, Post Industrial, Starship Command, Venus Envy.
The 2003 collection includes Natalian, Amusement, and Finders. MyFonts link. In 2007, MyFonts started selling his fonts: Amnesia, Bellamie, Bighead, Bossman, Boxcar, Buffalo Joe, Charbonne, Courier Ragged, Dead Zone, Dear John, Deviant Plain, Deviant Strain, DimeOtype, Disorder, Double Hitter, Double Vision, Dream Lover, Eastside, Eucaliptus, Eye Doctor, Falcon Brushscript, Falcon Casual, Frankenstein, Frontline, Golden Age, Golden Days, Horror Show, Junglemania, Keystoned, Label Gun, Letterstitch, Letterstitch Plain, Letterstitch Script, Liteweit, Miracolo, Outlaw, Prints Charming, Reerspeer, Romanstone, Saltzburg, Sidewalker, Silverscreen, Spaced Out, Starship Command, Steelyard, Strangelove, Sundance, Superhero, Tapeworm, Time Machine, Tolstoy, Typochondriac, Venus Envy, Verbal Cues, Writing Machine, Xheighter Condensed.
EXTERNAL LINKS
TypeArt Foundry (or: Digiteyes Multimedia TypeArt Foundry)


[Buy fonts]
MyFonts search
Monotype search
Fontspring search
Google search

INTERNAL LINKS
Typography ⦿ Commercial fonts (small outfits) ⦿ Type designers ⦿ Type designers ⦿ Calligraphic typefaces ⦿ The Canadian type scene ⦿ Typewriter fonts ⦿ Stencil fonts ⦿ Western fonts ⦿ Comic/cartoon fonts ⦿ Pixel/bitmap fonts ⦿ Horror fonts ⦿ Brush script typefaces ⦿ Typefaces for stitching ⦿ Art Nouveau typefaces ⦿ Art deco typefaces ⦿ Courier and derived typefaces ⦿