Fontry West [James L. Stirling]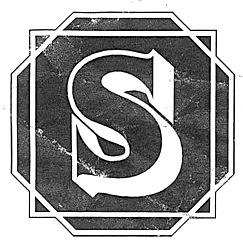 Fontry West is located in Tulsa, OK. At MyFonts, these Fontry West fonts can be bought: Iron, Toxcons (2008, skulls), WILD1 Firstvision, WILD1 Larra, WILD1 Nobody, WILD1 Ruts, WILD1 Toxia, WILD2 Ghixm, WILD2 Keetoowah (2008). Its type designer is James L. Stirling, who cofounded the Watts, Oklahoma-based design and lettering studio The Fontry in 1992 with Michael Gene Adkins. Born in 1964 in Oklahoma, Stirling co-designed WILD1 Firstvision (1997, techno) and Ironrider and Ironhorse (2008, blackletter typefaces based on wood types) with Adkins. In 2000, he co-designed the fonts Modern Poster and Modern Roman, based on the lettering of Alf R. Becker, a sign painter from 1932 to 1957. These fonts were published by Agfa-Monotype. Later fonts there include Steel Narrow, Steel Moderne, Chicago Modern. At The Fontry in the early 1990s, he made Klash (comic books style), Peppermint and Peppermint Openface (Southwest influences), Marbles&Strings, and Keetowah. He also made some Greek fonts at The Fontry.
In 2009, James Stirling started a serious digitization program of the art deco fonts of Alf R. Becker (based mostly on his Signs of the Times series), and made ARB 70 Modern Poster, ARB 93 Steel Moderne, ARB 44 Chicago Modern, ARB08ExtremeRomanAUG-32CASNormal (2009; the original is from 1932), and ARB 67 Modern Roman.
The grunge typeface JLS OverKill Grunge (2009) is free. JLS Smiles (2010) is a family of typefaces consisting of smilies / emoticons. FHA Modernized Ideal Classic (2011, with Michael Gene Adkins) is based on a demonstraton alphabet from Frank H. Atkinson's Atkinson Sign Painting (1908).
Typefaces from 2012 include FHA Condensed French (with Michael Gene Adkins), JLS Space X1C (LED style), JLS Space X2C, JLS Space Gothic, JLS Data Gothic.
In 2013, James cooperated with Michael Gene Adkins on FHA Broken Gothic, a layered chiseled type system based on Frank Atkinson's Broken Poster.
EXTERNAL LINKS
Fontry West


[Buy fonts]


[Designer info]
Fontspring link [Buy fonts]
Monotype foundry link
Dafont page
MyFonts search
Monotype search
Fontspring search
Google search

INTERNAL LINKS
Type designers ⦿ Type designers ⦿ Western fonts ⦿ Comic/cartoon fonts ⦿ Greek/Coptic ⦿ Type scene in Oklahoma ⦿ Blackletter fonts ⦿ Wood Type ⦿ Commercial fonts (small outfits) ⦿ Horror fonts ⦿ Dingbats (original) ⦿ Art deco typefaces ⦿ Smilie Fonts ⦿ Chiseled fonts ⦿ Tuscan fonts ⦿