Christoph Mueller Graphic Arts [Christoph Mueller]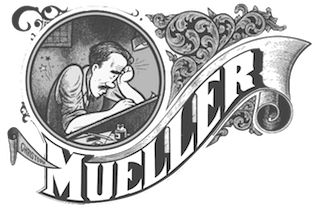 Graphic designer, illustrator and type designer Christoph Mueller (Aachen, Germany) grew up in the Netherlands. His illustrations, album artwork and lettering have brought him international fame. He is also known for free fonts such as Mom's Typewriter (1997, old typewriter without a 0 or a 1---in the really old days, typewriters didn't have 0's or 1's. One used the uppercase letter O and the lowercase letter l for the 0 and the 1. This saved two keys and two type bars, as well as the linkage between the keys and type bars), NoRefunds (1997, grunge), AZ Crushed (1997, grunge) and Autonomous Zentrum. Among his non-free fonts, most of which are grunge types, Goyathlay is the most interesting one. Other typefaces by Christoph include Spotnik&OldRomanTimes, Bonnie and Clyde, Bonnie and Clyde GoodOldDays, Estetica Wrecked (+ExtraLetters), PsychoUno, PsychoZwo, and PsychoSan.
Dafont link. Abstract Fonts link. Fontspace link. Older URL. Font Squirrel link. Another old link.
EXTERNAL LINKS
Christoph Mueller Graphic Arts
Dafont page
Fontspace page
MyFonts search
Monotype search
Fontspring search
Google search

INTERNAL LINKS
Commercial fonts (small outfits) ⦿ Type designers ⦿ Type designers ⦿ Typewriter fonts ⦿ Sites with only a few free fonts ⦿ German type scene ⦿ Dutch type design ⦿