Image Club Graphics [Greg Kolodziejzyk]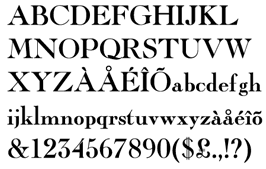 Image Club Graphics was founded by Greg Kolodziejzyk from Calgary, Alberta, in 1985. ICG sold fonts at about 30 dollars per typeface around 1992 and became successful as a font distributor and direct marketer and software developer. They issued new catalogs regularly. The most recent edition of the CD (called Letterpress 7.0) cost $1500 for 890 fonts. They also had a wide variety of artwork. The ITC on Display CDROM cost 3000 dollars for 375 display fonts.
Greg writes: In 1994 I sold Image Club to Adobe Systems of Mountain View, California. At that time, Image Club was distributing over 10 million software catalogs to it's customers world wide. With sales topping $20 million in 1996, Image Club is very well known in the industry as a successful direct marketer and software developer. [...] The company still operates in Calgary, but has been purchased back from Adobe by the manager who I had hired years ago who changed the name to Eyewire. In 1998, Eyewire was sold to Getty Corporation for a whopping $30 million.
The ICG site said at one point that Image Club no longer exists. As a company, it ceased to be sometime between our purchase by Aldus in 1994 and our rebranding as Adobe Studios in 1998.
Until recently, the Image Club Typeface Library and Image Club clip art products were available at EyeWire. Eyewire then became Veer. The ICG library can now be bought at MyFonts. List of available ICG fonts. Martin Kotulla states that ICG copied fonts in an aggressive manner, and finds it ironic that this pirate was bought by Adobe. Greg Kolodziejzyk's reply: You should add that all fonts "aggressively copied" by this "pirate" were licensed from the foundries who owned the copyrights to those fonts. I can't tell you how many 100's of thousands of dollars we paid over the years to foundries as licensing fees. This statement is false.
Selected typefaces: Eclat (retro signage script), Cariola Script Std (a wide connected script by James West).
View the Image Club Graphics typeface library. Greg Kolodziejzyk's present blog about personal fitness.