YOFonts [Yasuhiro Yamaoka]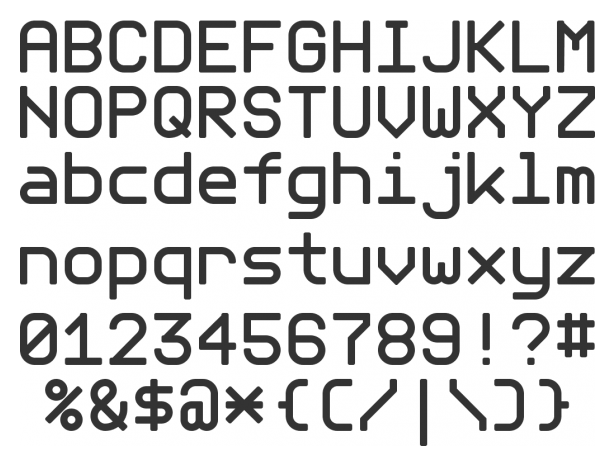 YOFonts offers beautiful fonts like Trafica and Engraver Sans by Yasuhiro Yamaoka. Most are commercial. Some can be downloaded as freeware or shareware. Fontsquirrel link [where one can download Eau (+Douce Sans, +Naturelle Sans, 2003), EPF (1999-2006), Grov (2000-2002), Midiet (1990-2009, sans and serif), Nord (1992-2000, elliptical), and Telegrama (1992, pixelish)]. Freeware fonts (Mac/PC): Crematec Bold, Glyphian (runic), Grov Alphabet Regular / Italic / Condensed (1999), Grov Katakana, Grov Hiragana, Laitty (1993-1997, upright connected script), Lapidit (1994-2002, experimental), Liq (1995, LCD face), IgnorantModern (1993), Initia (geometric, circular), OneZero Alphabet, OneZero Katakana (pixel face), Ovals (border font), Quads (borderfont), SmooHG, SmooKK, Opuscula (2008-2011), Practica, Ovals Regular (Border font), Quads Regular (Border font). Font of the month (free): Philo AB, Philo KK, Philo HG.
Other fonts: Angrite-Regular (1998), ArchaeoDeco (2001, art deco), Botaniq (organic, 2001-2002), Circles, CremSBold (1995-1997), CremacBea, CremacBeaBold, Crematec (techno), Cybertalk (2000), DippleKKS (1998, organic, molecular), Elementa (1990-1998, a techno family in Sans, Serif and Script styles), Engraver Sans (1995, Greek simulation family), Fact (1995-2005, information design family), Fol (1995, octagonal family), LiqMono, LiqMonoOblique, LiqRegular, LiqRegularOblique, ModCircle (1995), ModQuad (1996), Moderno (1997-2002, sans), Philo (1995-1996), Pica (1993-2005), Pixe (1992-1998), Practica (1991-2002, +Practica MsF), Nord-Bold (1998), OneZero-ABOneZero (1998), OneZero-ABZeroOne (1998), OneZero-ABZeroZero (1998), OneZero-KKOneOne (1998), OneZero-KKOneZero (1998), OneZero-KKZeroOne (1998), OneZero-KKZeroZero (1998), Serian (1997-2005, a German Schreibschrift), Trafica (1999-2002). In Font Pavilion 12 [dead link]: Smoo (1997-1998, Latin, katakana, hiragana).
EXTERNAL LINKS
YOFonts
Klingspor Museum page
MyFonts search
Monotype search
Fontspring search
Google search

INTERNAL LINKS
Sites with only a few free fonts ⦿ Type designers ⦿ Type designers ⦿ Type design in Japan ⦿ Commercial fonts (small outfits) ⦿ Experimental type ⦿ Pixel/bitmap fonts ⦿ Rune fonts ⦿ Dingbats (original) ⦿ Art deco typefaces ⦿ Greek simulation fonts ⦿ Octagonal typefaces ⦿ School fonts ⦿ LED / LCD fonts ⦿ Molecular typefaces ⦿