TheTypes digital type foundry [Luc(as) de Groot]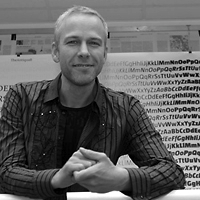 Dutch foundry by Luc(as) de Groot. Displays his commercial creations such as AlfAlfabetje, Aquarelkwast, BalpenVelTwee, Druiper, Hand&Feet, HateSchool, ScreenWrite, Typelab, TheAntiqua, TheSerifCorr, GezelligVet, Newspaper (Bukvaraz 2001 award), SpiegelFonts, Sprankelend Licht, Weetikveel, Punker Book, Pistol One, Two and Three, Marieke Serieuzer, MariekeWildStrip, Puntenstraight, PuntenExtremo, PuntenRondom, Drekkig, Modderig, Verschrompelfont. Also logo font services. de Groot was born in Noordwijkerhout in the Netherlands in 1963.
FontFont write-up. Founder of Font Fabrik in Berlin, and of LucasFonts.
EXTERNAL LINKS
TheTypes digital type foundry


[Designer info]
Klingspor Museum page
MyFonts search
Monotype search
Fontspring search
Google search

INTERNAL LINKS
Commercial fonts (small outfits) ⦿ Type designers ⦿ Type designers ⦿ Signature/logo fonts ⦿ Dutch type design ⦿ German type scene ⦿