eyecue design (was: Chris Brown's Visual Designs) [Chris Brown]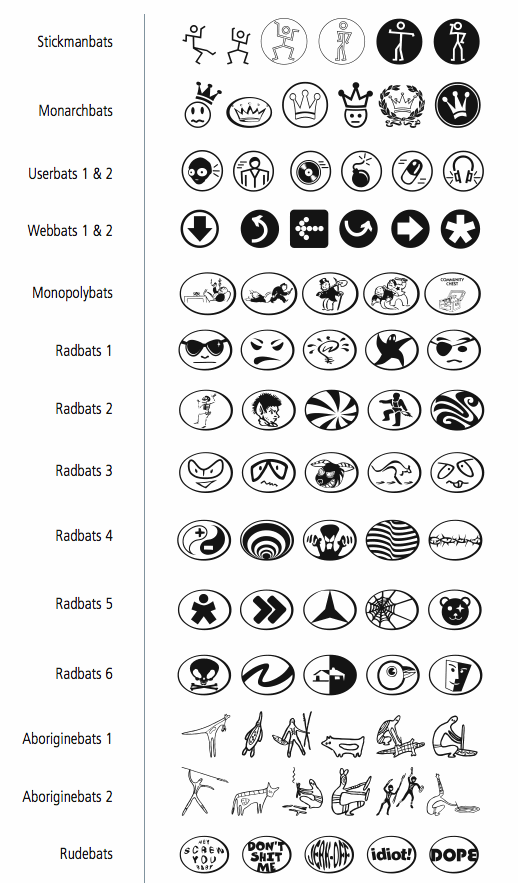 From North Freemantle in Australia, Chris Brown's exquisite shareware fonts: Keyster, Mandalay, Badgery, Changstein (oriental simulation), Vertigirl, Buddy Jim, Monopolybats, Aboriginebats 1 and 2, Neolight, NorthPoint (organic), Splinky, Lite, ToyBox, Tyderium, Pot Roaster, South Point, West Point, Skippy Greeny, Skooz Now, Curved, Cloaked, Warp, SkoozMo, Sea Monkey, Etcetera, Pepto, Plumbob, Dabble, Hypernium, HooperDooper, Hoola Boola, PsyberCircus, Zebbadee, Inkling, Galaxative, RegalBox, SP-Rocket, Doggstar, CurvedAir, Mookie, Psyberdeli, Acidio (1999, grunge), Plastacine, DeVille, Royal Box, Basoda, Blaster, Monarchbats, Muggins, Radbats 1 through 6, Rudebats, Jeet, Jiggaboo, Joopiter, Seringetty, Snooapalooza, Soda Stream, Stickmanbats, Userbats 1 and 2, Webbats 1 and 2, Starbuck, Dynamo.
About half the fonts are free. Download site. Acidio Amore. Several of his fonts would do fine in comic strips. You need to request fonts by email. Alternate URL for Radbats. Catalog: I, II, III.
EXTERNAL LINKS
eyecue design (was: Chris Brown's Visual Designs)
Dafont page
MyFonts search
Monotype search
Fontspring search
Google search

INTERNAL LINKS
Type designers ⦿ Type designers ⦿ Sites with only a few free fonts ⦿ Commercial fonts (small outfits) ⦿ Comic/cartoon fonts ⦿ Dingbats (original) ⦿ Oriental simulation fonts ⦿ Type in Australia ⦿