Jens Kutilek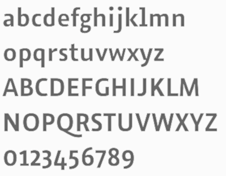 Jens Kutilek studied Communication Design in Braunschweig. After graduating he founded the web design agency Netzallee. He works at the font technology department at the Berlin office of FSI (FontShop International) since 2007. Jens Kutilek had a small typology page proving that Arial is not Helvetica, Courier is not Courier New, and Times-Roman is not Times-New Roman. That page disappeared. His typefaces:
The free font Comic Jens (2007-2009), a free alternative to Comic Sans: see here. See also the update Comic Jens UI (2014).

In 2011, FontShop published a 4-style screen family developed by Georg Seifert and fine-tuned by Jens Kutilek, called Azuro.

Helvers (2011). A blend of Univers and Helvetica.
The sturdy 6-style typeface family FF Hertz (2015) that was influenced by German cartographic alphabets.
EXTERNAL LINKS
Jens Kutilek
MyFonts search
Monotype search
Google search

INTERNAL LINKS
Typography ⦿ Type designers ⦿ Type designers ⦿ German type scene ⦿ Comic/cartoon fonts ⦿ Sites with only a few free fonts ⦿