Freaky Fonts [Christian Künzer]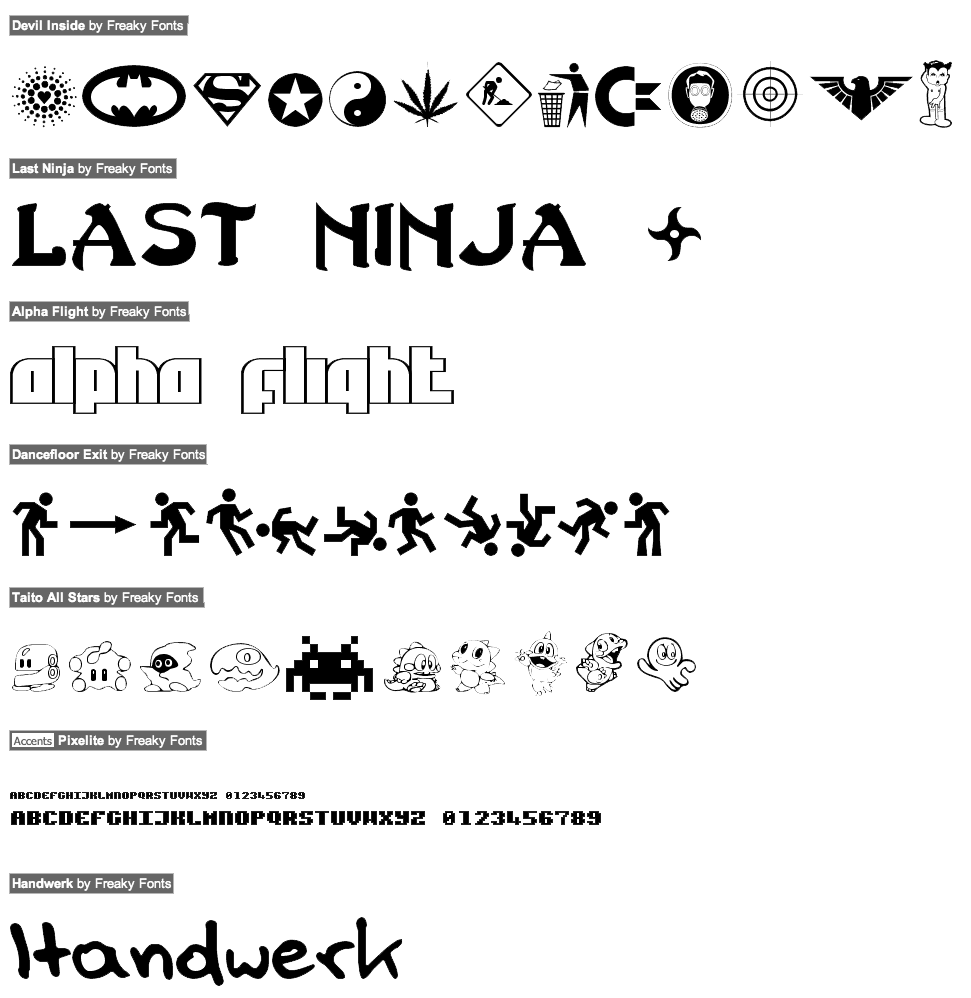 Freeware fonts by German type designer Christian Künzer (aka "ck") and/or Thomas Schostok. These include many game fonts. Interruptrequested, Gamegirl, Emulogic, Plasmafusion, Bordersprite, Runstop Restore, Scienide, Adore64, AmigaForever, AmigaForeverPro, AmigaForeverPro2, Arkanoid, ArkanoidSolid, ChuckyMendoza-Drunken, ChuckyMendoza, CosmicAlien, DanceFloorEXit, Devilinside, DynamicRecompilation, Fairlight, Formulatoocomplex.2, Frankieghost, Handwerk (handwriting), Harmonica, LastNinja (oriental simulation), LiquidKidz, LiquidKidzspazeout, PixelTechnology+, PixelTechnology, Plasmafuzion, Razor1911, Razor1911Retro, SyntaxError, SyntaxTerror, TexasFuneral, Triad, TriadXS, 1st Sortie.
Windows system fonts (.fon format): Atopaz, C, C64, Camels, Defjam, Dynamic, Fairlight, Future, Heretic II, Kung Fu, Shylock, Noname, Qu, Quake II, Star, Trek.
Free truetype creations: Knighthawks (nice outline font), Taito All Stars (bitmap typefaces), VectorBattle.
Many fonts here are designed for screen legibility at small point sizes. See also here and here.
The game fonts by Künzer (with repetitions from above) include Camels /ck!, Half-Life 1, Half-Life 2, Heretic II, Last Ninja, Last Ninja 3, Last Ninja 3 (8x8), Pirates, Quake1, Quake2, SIN, Stealth.
EXTERNAL LINKS
Freaky Fonts
Dafont page
Fontspace page
MyFonts search
Monotype search
Fontspring search
Google search

INTERNAL LINKS
Sites with only a few free fonts ⦿ Type designers ⦿ Type designers ⦿ Dingbats (original) ⦿ Pixel/bitmap fonts ⦿ Handwriting fonts ⦿ Oriental simulation fonts ⦿ German type scene ⦿