Golgonooza Letter Foundry [Dan Carr]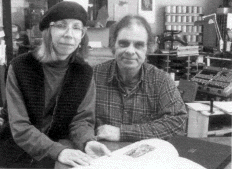 Dan Carr (b. Cranston, RI, 1951-2012) was an American poet, type designer, typographer, printer, teacher, punchcutter, environmentalist, human rights activist and New Hampshire State Representative (2008-2010). Carr received his BA at Clark University in Worcester, Massachusetts. In Boston, in 1979 he and his partner Julia Ferrari, started the Golgonooza Letter Foundry & Press, a hot metal Monotype graphic design and composition house, which they moved to Ashuelot, NH, in 1982. Together they created Trois Fontaines Press in 1997, a limited edition fine press. Carr taught typography, and the history of typography at Keene State University in Keene, NH. He died after a struggle with cancer.
At Golgonooza they produced high-quality letterpress books for a wide variety of clients. Dan Carr is the designer of the great-looking text fonts Lyons and Cheneau, 1990-1994, as well as Regulus (a metal font created in 1998 that earned him the title of Master Typographic Punchcutter of France in 1999), Philosophie, Genesis Numerals, and Beckett Bodoni, at the Golgonooza Letter Foundry. He won a Bukvaraz 2001 award for Parmenides (a metal type for archaic Greek). His digital typeface "Cheneau" was chosen for a judges' choice award by the Type Directors Club in 2000. Both Dan Carr's Parmenides Greek and Christopher Stinehour's Diogenes Greek were commissioned by the printer Peter Koch for The Fragments of Parmenides.
EXTERNAL LINKS
Golgonooza Letter Foundry


[Buy fonts]


[Designer info]
Klingspor Museum page
MyFonts search
Monotype search
Fontspring search
Google search

INTERNAL LINKS
Type designers ⦿ Type designers ⦿ Commercial fonts (small outfits) ⦿ Greek/Coptic ⦿ Type scene in New Hampshire ⦿ Modern style [Bodoni, Didot, Walbaum, Thorowgood, Computer Modern, etc.] ⦿ Type scene in Rhode Island ⦿ Letterpress ⦿