Sirylok (was: Popdog Fonts, or Fiberia) [Dimitris Kolyris]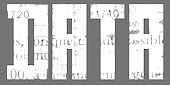 About 30 free original truetype fonts by Athens, Greece-based Dimitris Kolyris (b. 1973), half of which are grungy in style: Hip Priest (2016), Raw Macro (2016, architectural or blueprint style), Glasnost (2010), Victor Vector, Slang King (2003), Datatrash, DataTrash2, Ziperhead, CRAMPED, CRAMPS, CrackedJohnnie, DISCOBOX, DISCONNECTHOST, EVOL, POP1280, RANXEROX, Roundermultistyled, TomViolenceAUTOSPACED, UGLYLOVER, Vandaloop (hacker font), ZWISDOM, Bonviver, Corazon, HappyDaze, Recover, Tom Violence, Viper Nora, Benny Blanco, DEADLINE, HEATWAVE.
In 2016, he strtaed a commercial foundry, Sirlok. His fonts there include Data Trash Retro Futuristic (2016: constructivist style).
Homepage invalid. Dafont link. And another URL. Old Popdog Fonts link.