Présence Typo [Thierry Puyfoulhoux]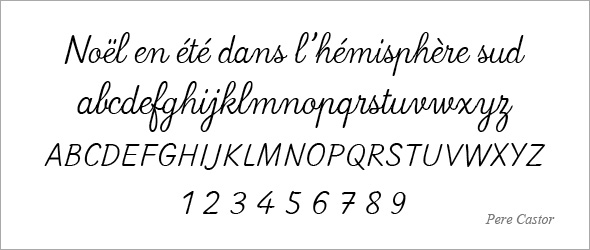 Friendly French Agfa Creative Alliance designer (b. 1961) who lives in Baratier. He was an ex-student of José Mendoza at the Imprimerie Nationale à Paris. He started Présence Typo in 2000. He published numerous typefaces in various places:
ITC: ITC Korigan Light (1997), ITC Friz Quadrata Italic (2003, to complete the ITC Friz Quadrata of 1965), Friz Quadrata Bold Italic (1994).
Agfa creative Alliance: Alinea (1995-1997).
Présence Typo: Cicero (1995; Cicero2 is promised), Bebop (1996), Adesso (1999), Classica (a very elegant family, 1999), Classica Gallic (2001), Madisonian (1999), Tschichold (1999, the only lineale typeface by Tschichold drawn in 1933-1936 for the Uhertype photo-typesetting machine), Presence (1998), Prosalis (1998), Tangram (2001), Tuxedo (1999, a fun didone experiment), Kouros (2003, a Greek simulation font), Indigo Sans (2003), Indigo Serif (2003), Classica Prestige, BigTicy (2005), Ubik (2004, an 8-weight sans family), Diana and Princess (2004, calligraphic typefaces, after designs by Roger Excoffon in 1956). A.M. Cassandre's Cassandre (1968) was largely unfinished, after having been turned down by Berthold and Olivetti. It was finished in a revival of sorts (3 weights) by Thierry and is still called Cassandre (2003) [Cassandre Original includes only the letters drawn by A.M. Cassandre. Cassandre Normal and Bold are completed and expanded interpretations of the original drawings of 1968. Cassandre was the last typeface designed by the great poster artist and type designer A.M. Cassandre (1901-1968)]. Fonts available at MyFonts include Fusion Engraved, Fusion Standard, Laricio, Tandem, and Zipper, Placebo Sans (2003), Tuxedo (1999, a fun didone experimental face), Placebo Serif.
Typotek: Tangram (1999, letters and dingbats made from triangles and squares), Présence (1999, sans serif), Classica (1999, serif), and Prestige (1999, serif).
Custom fonts: Add Electric City, Add Iron, ITC Friz Quadrata Italic (2003, to complete the ITC Friz Quadrata of 1965), Père Castor Flammarion (designed for Flammarion by José Mendoza and digitized by Thierry), Option Italique (designed as an italic for Optima), ITC Korigan (uncial).
Klingspor link. FontShop link. Linotype link.
EXTERNAL LINKS
Présence Typo


[Buy fonts]


[Designer info]
Klingspor Museum page
MyFonts search
Monotype search
Fontspring search
Google search

INTERNAL LINKS
Commercial fonts (small outfits) ⦿ Type designers ⦿ Type designers ⦿ School fonts ⦿ Stone age fonts ⦿ Experimental type ⦿ Type design in France ⦿ Modern style [Bodoni, Didot, Walbaum, Thorowgood, Computer Modern, etc.] ⦿ Uncial typefaces ⦿ Tangram typefaces ⦿ Greek simulation fonts ⦿ Triangulated typefaces ⦿