Massimo Vignelli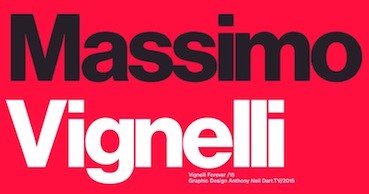 Famous Italian typographer and graphic designer, b. 1931, Milan, d. 2014. Designer, with Tom Carnase, of WTC Our Bodoni (1989). In 1966, he set up Unimark International in New York City, which became the largest disign firm of its day. He left Unimark in 1971, to set up Vignelli Associates in New York City with his wife Lelli.
He dismissed Emigre as a garbage pail of design. Famous for his designs and opinions, he once said that a designer should only use these five typefaces: Bodoni, Helvetica, Times Roman, Century and Futura. Another quote along the samne lines: In the new computer age, the proliferation of typefaces and type manipulations represents a new level of visual pollution threatening our culture. Out of thousands of typefaces, all we need are a few basic ones, and trash the rest.
In his Vignelli Canon (free PDF book on design), he mentions these six: Garamond (1532), Bodoni (1788), Century Expanded (1900), Futura (1930), Times Roman (1931) and Helvetica (1957) [However, in that booklet he uses 8 different type families: the above six, and Gill Sans and Univers]. Yves Peters' reaction: Massimo Vignelli clearly hasn't got a clue. It's not the first time a quote of his makes me cringe. I hope you appreciate I'm trying real hard to stay polite. Frankly, if I ever heard anyone say: "a music lover should only listen to 5 artists: Elton John, Celine Dion, Billy Joel, Whitney Houston and Luciano Pavarotti" I'd go to great lengths to ridicule the billy sastard. Nevertheless, in the eyes of many designers, he is a role model and an icon. Vignelli published New York City Transit Authority Graphics Standards Manual (1970, New York, as Unimark International).
Discussion of his work by the typophiles. Report of his presentation at ATypI 2006 in Lisbon.
EXTERNAL LINKS
Massimo Vignelli
Klingspor Museum page
MyFonts search
Monotype search
Fontspring search
Google search

INTERNAL LINKS
Type designers ⦿ Type designers ⦿ Type design in Italy ⦿ Books on type design ⦿ Modern style [Bodoni, Didot, Walbaum, Thorowgood, Computer Modern, etc.] ⦿ Type scene in New York ⦿ Type personalities ⦿ Eric Gill and his typefaces ⦿