ACME Fonts (or: CHK Design) [Christian Küsters]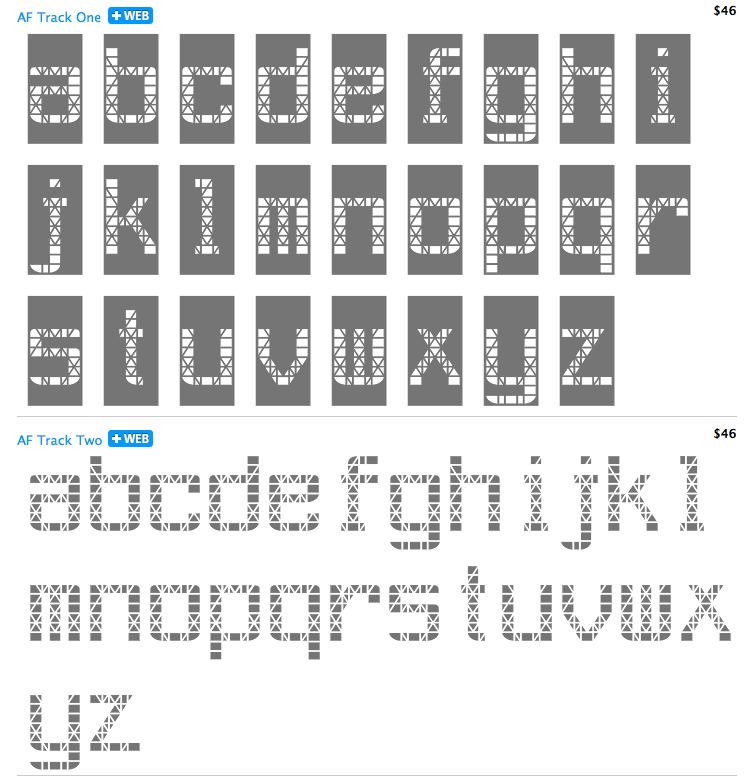 Started in 1996, by Christian Küsters and Andy Long (from South London), ACME Fonts is a London-based foundry, offering fonts by Küsters and these designers: Anthony Burrill, Gérard Paris-Clavel&Johannes Bergerhausen, Jean-Lou Désiré, Paul Farrington, Robert Green, Paul Kehra, Henrik Kubel, Simon Piehl, Alex Rich, Carsten Schwesig, Sandy Suffield, Dirk Wachowiak, Anne Wehebrink and Paul Wilson. Christian Küsters is an ex-student of Matthew Carter at Yale. Born in Germany, he now lives in Oberhausen. Buy the fonts at MyFonts. The company evolved, I guess, into CHK Design.
MyFonts link. Interview. Klingspor link. The ACME font list:
By Christian Küsters: AF Angel (1998, based on an old woodblock typeface), AF Satellite, AFWendingen, Cashier 1 AF (1998, dot matrix), AF Champ Fleury (1996, a Codex-like face), AF Hybrid (1996), AF Hadrian Roman (1998, art nouveau), AF Interface One and Two (1998, grotesque sans), AF Retrospecta (1998, exaggerated wedge serif family), AF Track AF One and Two (1998, white on black dot matrix printing), Unzialis (1994), Zip Code AF 30, 40, 50 and 60 (2001, hairline squarish sans family). Christian had a nice connection at Plazm, where he published Hadrian (1996), Retrospecta (1994), Unzialis (1994), Hybrid (1996) and Interface One (1996).
By Robert Green: AF PAN (1997, octagonal).
By Henrik Kubel: 4590, AF-Battersea (1999, a grotesque family), AF-CENTERA, AF-Copenhagen, AF-Klampenborg (2000, grotesque sans), CPH-ArabicNumbers, CPH-Medium, Grot-25.
By Sandy Suffield: CarPlatesCarPlates, AF Carplates (1998, squarish, including Carplates AF Bold Stencil).
By Paul Wilson: AF Screen (1999).
By Pete McCracken: INKy-black (1994).
By Carsten Schwesig: Nicoteen 13 AF (1998, grunge), AF Syrup (1998, slab serif).
By Paul Farrington: Camberwell AF One (1998, grotesque sans), AF Tasience (1998), Amateur 69 AF (1998, grunge).
By Dirk Wachowiak: AF Diwa (2002, large squarish sans), AF Generation (2002, huge squarish sans families called A, A2, A2A, Z, and ZaZ).
By Jean-Lou Désiré: Kub AF (2002, experimental).
By Johannes Bergerhausen and Gerard Paris-Clavel: LeBuro AF (2003, grunge in weights called Breau, Crade, Louche, Extra Crade, Demi Beau).
By Sylvia and Daniel Janssen: AF Nitro (2004, techno family in subfamilies called Intro, Riton, Trion).
By Anne Wehebrink: Oneline AF (1998, squarish sans).
By Paul Kehra: PostSoviet AF (2001, geometric sans family; with Cyrillic and Latin letters; weights called Culture, Free Latvian, Free Revolution, Ideology, Revolution).
By Simon Piehl: Spin AF (1998, squarish sans).
By Anthony Burrill: Video Wall AF (1998).
By Christian Küsters, based on lettering of H.T. Wijdeveld: AF Wendingen (1998, LED simulation).
Other: AFConstants (1998), Allen, Indy 500, Interface, AFLogotype (1998).
View ACME's typefaces. Acme's typeface library. Typefaces made by Christian Küsters. MyFonts selection for ACME.
EXTERNAL LINKS
ACME Fonts (or: CHK Design)


[Buy fonts]


[Designer info]
Klingspor Museum page
MyFonts search
Monotype search
Fontspring search
Google search

INTERNAL LINKS
Commercial fonts (small outfits) ⦿ Type designers ⦿ Type designers ⦿ Codex-like fonts ⦿ Pixel/bitmap fonts ⦿ Stencil fonts ⦿ Very thin (hairline sans) typefaces ⦿ Experimental type ⦿ Octagonal typefaces ⦿ Art Nouveau typefaces ⦿ German type scene ⦿ Type design in the United Kingdom ⦿ LED / LCD fonts ⦿