Facsimile Fonts [Robert Trogman]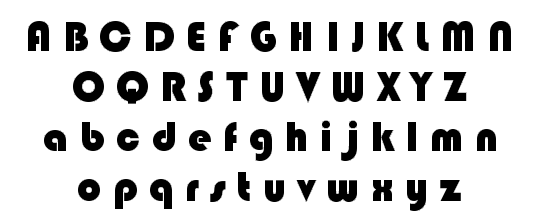 Foundry which offers fonts by Robert Trogman, a graphic designer now living in Palm Springs, CA, where he runs Trogman Signs. His fonts include
Buxom (3d face). For a digital version, see Buxom SB (Scangraphic).
Roberta (1962, FotoStar: an art nouveau face).
Yagi Double (the CNN Logo). This was digitized in 1996 by Alan Jay Prescott as New Yagi Bold, 2008 as Miyagi (with a few twists) by Thinkdust, and as Yagitype and Axitype by John Wu (Archetype) in 2010.
Binner (art deco).
Blippo (display)
Handel Gothic (sans).
Originally these were fonts made for phototypesetting---Handel Gothic and Blippo, e.g., were available at Fotostar. He says about himself: My career began in 1942 as an apprentice in the composing room. Because of WWII I was able to get several jobs; working at the College Press under the tutiledge of Richard Hoffman and a night job at LA Type casting the first arrival of Times Roman. Because of the pursuit of the alphabet it led to working with some of the best in the business: Saul Bass, Herb Rosenthal and Charles Eames. My commercial career began in the early 1960s with the revival of Jugenstill fonts and becoming an agent for Berthold. I was able to bring on the photolettering market many original designs under the name of Facsimile Fonts and later FotoStar International. In total, he made over five thousand film fonts under the name of Facsimile Fonts and FotoStar International.

He writes for Recognition Review as Dr. Type and gives seminars on typographic design. A type consultant, he was at one point lecturer on typographic layout and design for California State University at Los Angeles. As Trogman explains to Harold Lohner about Roberta: I originally hand cut this font in 1962. It is based on a Belgian restaurant sign. I named it after my daughter Roberta. Many Mexican food companies used this font, but they didn't know it was from Europe. Dan Solo was going to digitize it for me, but he retired from the font business last year. Just give me credit for the design and it is all yours to do what you want. Trogman's picture. Roberta D was remade by Ralph M. Unger in 2003 for URW. Trogman, however, is upset with URW: URW++ has been warned by me to stop selling typefaces I originally licensed to Berthold Fototype, Stempel, Bitstream, Mecanorma and Letraset. They have never responded to my accusation of piracy. He is a graduate from the University of California at Santa Barbara.
EXTERNAL LINKS
Facsimile Fonts


[Designer info]
MyFonts search
Monotype search
Fontspring search
Google search

INTERNAL LINKS
Commercial fonts (small outfits) ⦿ Type designers ⦿ Type designers ⦿ Type scene in California ⦿ Photo and film type era ⦿ David and Goliath ⦿ Art Nouveau typefaces ⦿ 3D fonts ⦿ Art deco typefaces ⦿