Grundini [Peter Grundy]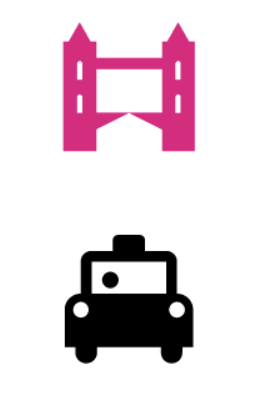 Unbelievably talented graphic designer in London. Designer in the FUSE 15 collection (1996) of DIY (Foundations and Skeletons). Debutart page. There, we find an architectural B (2011), a poster called Type Countries, martial arts icons, colorful safety icons, colorful departmental icons, a stunning techno wheel poster, Office Icons, a gorgeous typographic bike, an exemplary London city map, a poster entitled Africa, and a Vodafone Head illustration (2011).
Bio from his web site: Tilly Northedge and Peter Grundy set up Grundy&Northedge in 1980 because they were both interested in information design. Firstly because it was a totally un-glamorous area of the business which they thought they could change, and secondly because it was less about selling things and more about explaining things which seemed a lot more interesting. Grundy&Northedge spent twenty six years making information visually interesting and in the process developed a way of drawing simple images to illustrate ideas that became their signature. They called it iconography, pictures that provide information and explain complex things. When Tilly left design in 2006 Peter Grundy renamed the studio Grundini with the intent of more extensive iconographic experimentation, not only for the clients who were in effect already there, but newly for customers, people who would see his work and buy one for there home, office or elsewhere. Peter Grundy's previous clients include Shell Oil, Moet&Chandon, Royal Mail, The Guardian G2, The Red Bull F1 Team, Men's Health, South West Trains, Hampton Court Palace and Volkswagen.
In 2019, he designed London Dingbats (a set of information icons) at London Type.
EXTERNAL LINKS
Grundini
MyFonts search
Monotype search
Fontspring search
Google search

INTERNAL LINKS
Type designers ⦿ Type designers ⦿ Type design in the United Kingdom ⦿ Font examples ⦿ Dingbats (original) ⦿ Icon fonts ⦿