Paul Alan Grosse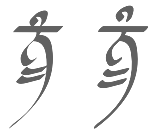 Paul Alan Grosse is a very prolific Gurmukhi type designer (among many other things, often technical things---check out his own computer-generated Sudoku and Kakuro puzzles, for example). He created over 200 free Gurmukhi typefaces:
Fonts from 2000: Cut-Out-PG, Jotter-PG, Gas-Plasma-PG (dot matrix), Typewriter-PG, Water-Rocket-PG, Handwritten-PG, MySchoolFont (2001, chalk on blackboard style).
Gurmukhi: In 2008, he made the Gurmukhi font families Bulara, Magaz (2008), Karmic Sanj (2007: advertized as a Gurmukhi mirror of Cimic Sans MS), Punjabi Typewriter, Gurmukhi Old Letterpress, Gurvetica A, Gurvetica (48 styles---like Helvetica for Gurmukhi), Dekho (2012), Dekho Naveen (2012), Rupe, Lanma (2007, with decorative tails), Choti (stylized script), Raaj (a handwritten style with tails), and Raajaa.
His Dave font family (2009) takes the Gurmukhi range but outputs Devanagari characters instead. This means that a piece of text written in Gurmukhi (using Unicode) can easily be displayed as Devanagari, simply by changing the font. Iragan does the opposite: it converts Devanagari to Gurmukhi.
Handwriting typefaces for Gurmukhi: GHW Adhiapak, GHW Dukandar, GHW Penti Akhari, GHW Purani Primer PDL, GHP Full (based on sign-writing). Purani Primer (2013) is a font based on a cursive design from a 100 year-old primer sent to him by Punjab Digital Library.
Uttar (2012) and Tsheg (2012): Gurmukhi fonts in the style of Tibetan. Tsheg also has Latin and makes a great oriental simulation typeface.
Gurmukhi fonts made in 2013: DIN 1451 Punjabi, Gubara (a balloon font), Modhera (in the style of Gujarati), Dwarka.
Fontspace link. Old URL. Another site for his Gurmukhi fonts. Paul Grosse's main web site. Behance link.
EXTERNAL LINKS
Paul Alan Grosse
Fontspace page
Behance page
MyFonts search
Monotype search
Fontspring search
Google search

INTERNAL LINKS
Sites with only a few free fonts ⦿ Type designers ⦿ Type designers ⦿ Typewriter fonts ⦿ Dingbats (original) ⦿ School fonts ⦿ Gurmukhi/Punjabi fonts ⦿ Blackboard type ⦿ Oriental simulation fonts ⦿ Letterpress ⦿ Typefaces that emulate chalk ⦿