Military Aircraft Fonts [August T. Horvath]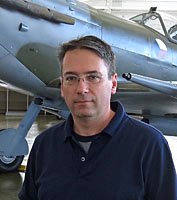 Airplane photographer August T. Horvath is from Windsor, Canada, and lives in the United States, where he works as an antitrust and false-advertising lawyer in New York City. Around 2001, August T. Horvath published his Military Aircraft Fonts series: RAF_45D_851ATH, RAF_45D_841ATH, RAF_PW_ATH, RAF_WW2_841ATH, RAF_WW2_641ATH, RAF_WW2_851ATH, RCAF_60O_ATH, RCAF_60SQO_ATH, RCN_8O_ATH. These truetype fonts have letters taken from RAF, RCN and RCAF airplanes, but they are limited in two respects---all fonts have the name "New", and all glyphs are hidden in the Private Use Area, and thus not easily accessible to the amateur user. They were free, but all sites that had them disappeared.
Link to August T.Horvath's airplane photography. Linkedin link.
EXTERNAL LINKS
MyFonts search
Monotype search
Fontspring search
Google search

INTERNAL LINKS
Type designers ⦿ Type designers ⦿ Military typefaces ⦿ Type scene in New York ⦿ The Canadian type scene ⦿