Fonderie Peignot et Fils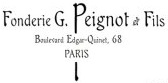 French foundry established and run by Georges Peignot and his son Charles. In 1923 it merged with Girard Et Cie to become Fonderie Deberny&Peignot. Their collection includes Nicolas Cochin (1912) and typefaces by:
G. Auriol: Auriol (1903).
G.+C. Peignot: Garamont (1912-1928).
A. Giraldon: Giraldon (1900).
Eugène Grasset: Grasset (1898).
They also published the Garalde typeface Ancien, Série 16 (19050 [digitized as Seizieme Pro in 2013 by Coen Hofmann], the didone typeface Gras Vibert [for a digital version of this, see Vibertus (2007, Lars Törnqvist)], and Sphinx (1925) [which was revived by Steve Jackaman as Sphinx RR, and by Douglas Olena as FFD Sphinx (1995)].

Many specimen books were published by them. For their vignettes, see Spécimen de vignettes typographiques (Paris, Rue Visconti, 17, près le Palais des Beaux-Arts, faubourg Saint-Germain. [1870]). Early work is shown in Les créations de la fonderie typographique Deberny et cie depuis 1878 (1889) and in Les nouvelles creations de la fonderie typographique Deberny&cie (1895). Fancy type is shown in Les caractères d'affiches. Extrait du Livret typographique (Paris, 1905). Older fleurons are in Nouvelle série des fleurons de la fonderie de Laurent et Deberny (ca. 1844). Peignot foundry genealogy.

MyFonts hit list for typefaces by Peignot or in the style of Peignot's typefaces. Compare Peignotian typefaces.
EXTERNAL LINKS
MyFonts search
Monotype search
Fontspring search
Google search

INTERNAL LINKS
Extinct 20th century foundries ⦿ Type design in France ⦿ Modern style [Bodoni, Didot, Walbaum, Thorowgood, Computer Modern, etc.] ⦿ Garalde or Garamond typefaces ⦿ Baskerville ⦿