Knud Valdemar Engelhardt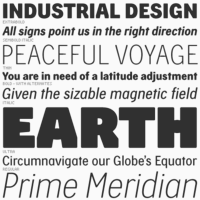 Knud V. Engelhardt (1882-1931) was a Danish architect, printer and designer. He worked on kilometer stones, type for trams, street signs, and is well known in type circles for a slab-serif alphabet made for the city of Copenhagen with heavy wide capitals.
In 2010, Swedish designer Mårten Thavenius created Skilt Gothic (Font Bureau), which was based on signage types by Engelhardt from the 1920s, including those he created for the street signs in Gentofte, north of Copenhagen. Engelhardt's design was loosely based on the lettering of two Danish architects of the time: Thorvald Bindesbøll (designer of the Carlsberg logo) and Anton Rosen. The signs were so successful that they are still in use today.
In 2017, Letters from Sweden published its Trim sans typeface family, which is also based on Engelhardt's work.
In 2020, Wahyu Wibowo released Regave, a 24-style (+variable) typeface which is also influenced by Engelhardt's street signs.
EXTERNAL LINKS
Knud Valdemar Engelhardt
MyFonts search
Monotype search
Fontspring search
Google search

INTERNAL LINKS
Type designers ⦿ Type designers ⦿ The Danish type scene ⦿ Map/Travel dingbats ⦿ Signage typefaces ⦿