John A. Lane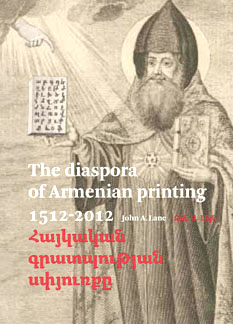 John A. Lane (b. 1955) is a type and printing historian. He was born and raised in the United States and has lived in Leiden (Holland) since 1990. He who often writes on typography:
One of his crowning achievements is the book Letterproeven van Nederlandse gieterijen (1998), which shows Dutch typefounders' specimens from the Library of the KVB and other collections in the Amsterdam University Library with histories of the firms represented. It is coauthored with Mathieu Lommen, a noted type librarian and historian. Discussion of the text.
Coauthor with Mathieu Lommen in 2003 of "Bram de Does Boektypograaf&Letterontwerper" (Amsterdam, 2003).
Author of Early Type Specimens in the Plantin-Moretus Museum (New Castle and London: Oak Knoll Press and the British Library, 2004).
Author of The Diaspora of Armenian Printing 1512-2012 (2012, Amsterdam: Special Collections of the University of Amsterdam). From the book's blurb: In 1512, in the city of Venice, Hakob Meghapart printed the first book in Armenian type. [...] For technical and political reasons, all Armenian books were printed outside Armenia until 1771. The art of Armenian printing developed in major centres like Venice, Constantinople and Amsterdam, but also in many others around the world. Its history moves along highways and byways reflecting the ups and downs of the Armenian people. The book describes the diaspora of Armenian printing, highlighting the role of Amsterdam.
EXTERNAL LINKS
John A. Lane
MyFonts search
Monotype search
Fontspring search
Google search

INTERNAL LINKS
History of type ⦿ Books on type design ⦿ Dutch type design ⦿ Armenian fonts ⦿