Paulus Franck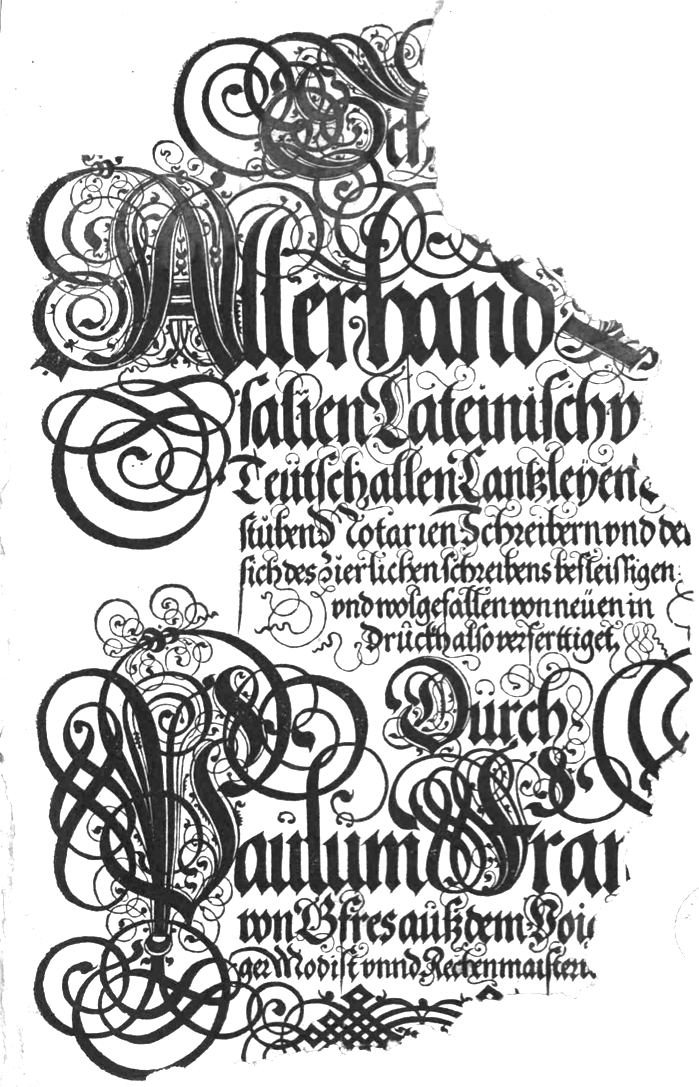 Designer of a set of curly baroque initials in Nürnberg in 1601, published in Schatzkammer. Allerhand Versalien. The original book was scanned in at the BSB (Bayerische Staats Bibliothek and can be downloaded.
Joseph Kiermeier-Debre and Fritz Franz Vogel published a facsimile that can be seen at Google Books and at Amazon (Ravensburger Buchverlag, 1998).
A penmanship book due to Paulus (or Paul) Franck from 1655 under the title Kunstrichtige Schreibart: allerhand Versalien oder AnfangsBuchstaben der teütschen, lateinischen und italianischen Schrifften aus unterschiedlichen Meistern der edlen Schreibkunst zusammen getragen was published in 1655 in Nürnberg by Paul Fürst (ca. 1605-1666) and printed by Christoph Gerhard (1624-1681). This text, of which some pictures can be viewed here, consists largely of hyper-ornamental blackletter initials.
Franck's über-ornamental decorative caps were revived digitally in several typefaces:
PaulusFranckInitialen (2002) was created by Dieter Steffmann based on those initials, but they are apparently incomplete.
Paulo W (Intellecta Design) created the font Paulus Franck 1602 (2006).
EXTERNAL LINKS
Paulus Franck
MyFonts search
Monotype search
Fontspring search
Google search

INTERNAL LINKS
Ornamental caps typefaces ⦿ German type scene ⦿ Books on type design ⦿ Calligraphic typefaces ⦿ Penmanship ⦿ Articles on type design written by Luc Devroye ⦿ Blackletter fonts ⦿ Curly typefaces ⦿ Dieter Steffmann ⦿