Typotheticals (was: F.O.N.Type) [Graham Meade]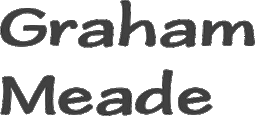 Typotheticals (F.O.N.Type) (est. 2002) is a supplier of fonts from a number of independent amateur foundries that make up the C.O.I.F.F (Collective of Independent Font Foundries) group. Originally free fonts, the fonts are now commercial and can be bought at MyFonts. It is run by Graham Meade in Melbourne, Australia. Font families for now:
From Three Mile Island (Graham Meade): RaveParty, Nightmare in Blend Mode.
From Tomcat Type: Why Damn It, Deedaceous, Cortilic (nice austere Courier-style letters).
From Fontological Foundry: Where U @ (a comic book style).
Also: Chyletoon (2021; a cartoon font family in 24 styles), Umerica (2019), Lemonite (2019: sans), Ipscus (2009, after an earlier free font by him, Brassiere), Skuair (2009), Xeilo (2008), Damure (2006), Sweetmix (2006), Norlik (2006, 6 styles), Nok (2006, 18 style sans family; with Daniel Athburton), Koster (2006, swashbuckler family), Whinter (a simple sans family), Carnova, Metasyntal, TN Caluminy, Modcon and Modcon Outline (2007, futuristic family), Tsudoman, Tsudotin, Tsudovac, Delechol, Etched Fractals (Bank Gothical style), Binary Snafu, Meichic, Phollick, Italican Oblique, Czaristane, Hulbert, Frogster, Typothetical 1, Stripwriter, Eutheric, Gyant, Gurnee, Quoral, Freekenfont, Kylemott, Elspeth GM, Worstveld Sling, Cordin (2005), Jains (2005), V-Hand (2005, informal script). This site offers Cordin Freebie (2005). In 2006, Thomas Phinney from Adobe insulted Graham on Typophiles by stating: You make somewhat lower quality and much less expensive retail fonts, and I sought out my job at a company that makes relatively high quality and expensive (when not bundled) fonts.

For completeness, Graham Meade's fonts at MyFonts: Alum, Aunchanted Elite, Blound, Caluminy, Capitalus Diabolus (2014, a beveled neon-look typeface based on Lucifer No. 10), Carnova, Cordin, Cyne (2004), Czaristane, Dbased Material, Elspeth GM, Etched Fractals, Etho (2013, +Etho Wide), Eutheric, Flute, Frangle (2013, octagonal), Freekenfont, Frogster, FrownTown, Gurnee, Gyant, Houral Etched, Hulbert, Humper, (2005), Ilbit, Italican Oblique, Italican Script (2004), Jains, Jointed (2008), Koster, Kylemott, Laural Hardy (2011, piano key family), Marjoram (2008), Meichic, Modcon, Nacissism (sic) (2013), Neu Phollick Alpha, Nok (2006, with Daniel Athburton), Norlik, Phollick, Physe (an organic display sans in 16 styles) (2020), Quiffed, Quoral (2003), Ramadesh, Reluxed, Rhomus Omnilots (geometric dingbats), Simiate, Stripwriter, Sweetmix, Thyne (2020: a lachrymal serif in 14 styles), Typothetical 1, Tzaristane (2005), V-Hand (2005), Wastrel (2004), Whinter, Whyst (2020: squarish and monolinear in 28 styles---almost a gas pipe font), Wiki, Worstveld Hand, Worstveld Sling (2005, with ), Worstveld Sting.

Klingspor link. Fontspace link. Dafont link.
EXTERNAL LINKS
Typotheticals (was: F.O.N.Type)


[Buy fonts]


[Designer info]
Dafont page
Fontspace page
Klingspor Museum page
MyFonts search
Monotype search
Fontspring search
Google search

INTERNAL LINKS
Sites with only a few free fonts ⦿ Type in Australia ⦿ Comic/cartoon fonts ⦿ Commercial fonts (small outfits) ⦿ MICR fonts ⦿ Handwriting fonts ⦿ Piano key typefaces ⦿ Courier and derived typefaces ⦿ Octagonal typefaces ⦿ Neon tube or faux neon typefaces ⦿ Tear drop terminals ⦿