Lorenz Reinhard Spitzenpfeil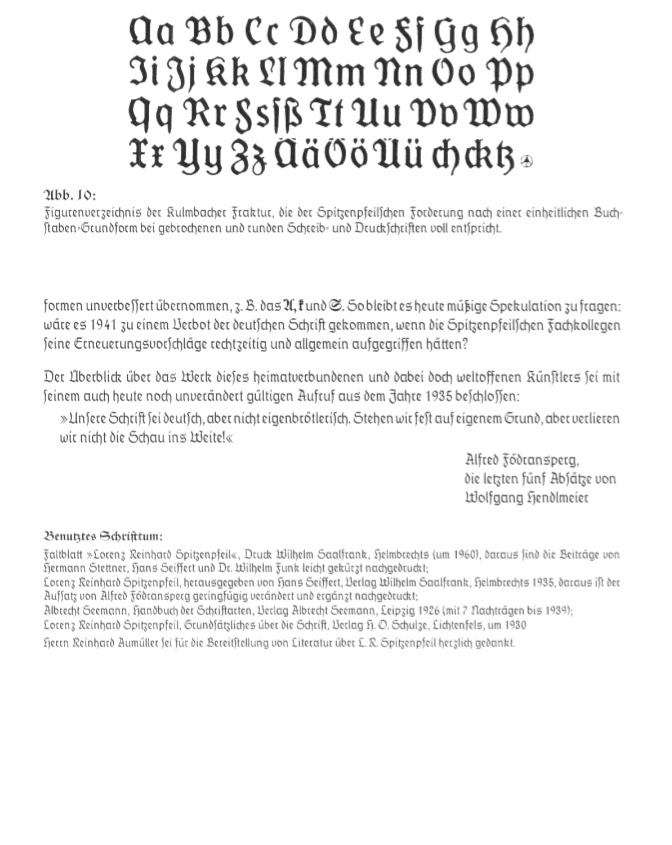 Blackletter type designer at Ludwig&Mayer, b. 1874 Michelau, d. 1945 (by suicide), who lived most of his life in Kulmbach, and is often called the forgotten designer. His typefaces:
Welt-Fraktur (Magere and Halbfette) (1908-1910). Also called Spitzenpfeil Fraktur.
Werk-Fraktur (1918; the mager is from 1913). Revived by Gerhard Helzel.
Kulmbacher Fraktur. Unpublished.
Kulmbacher Schwabacher (1935).
Fränkisch Spitze Buchkursive (or just Fränkisch) (1906, Genzsch & Heyse; Seemann and Wetzig both mention 1910). Revived by Dieter Steffmann in 2002.
Spitzenpfeil Splendid (Ludwig&Mayer).
His life story was told in 1983 by Hermann Stettner and others in the magazine of the Bund für die deutsche Schrift, volume 69: Page 1, Page 2, Page 3, Page 4, Page 5, Page 6, Page 7, Page 8, Page 9. See alo Kurt Muhlhausser's article Lorenz Reinhard Spitzenpfeil. Ein Lebensbild des oberfränkischen Künstlers und Forschers (in: Geschichte am Obermain, Bd. 17, 1989-1990).
Author of Die Behandlung der Schrift in Kunst und Gewerbe. Eine Einführung in die Schriftbildung, Schrifttechnik und Schriftanwendung (Nürnberg, 1911), Die Grundformen neuzeitlicher Druckschriften (Leipzig, 1912) and Der Schriftkünstler. Anleitung zur Kunstschrift (Hannover/Wien, 1912).
EXTERNAL LINKS
Klingspor Museum page
MyFonts search
Monotype search
Fontspring search
Google search

INTERNAL LINKS
Type designers ⦿ Type designers ⦿ Blackletter fonts ⦿ German type scene ⦿ Bastarda / B&acirctarde / Schwabacher ⦿ Books on type design ⦿ Dieter Steffmann ⦿