Signfonts.com [Steve Contreras]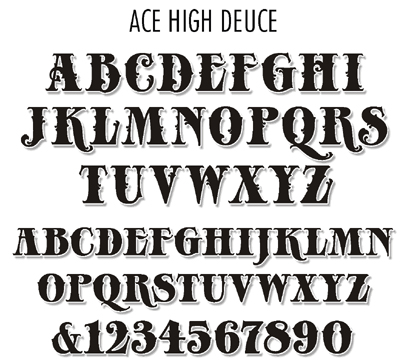 Commercial font studio, also called Art&Sign, located in Fort Worth, TX, started in 2001 by Steve Contreras. He writes: Created by Sign Artists, with the look of hand lettering. Casual and script fonts designed specifically for Sign painters and Artist, for use in vinyl cutting and large format printing. Some fonts could also be used for comic book purposes or general display.
Their typefaces include: A&S-Christmas-Script, A&S-Graphina-Chisel, A&S-Happy-Jack, A&S-Harliquin, A&S-Motherlode, A&S-Pen-&-Ink-Roman, A&S-Popcorn, A&S-Porkchop-Primitive, A&S-Porkchop, A&S-Puff-Daddy, A&S-Rhino, A&S-Rister, A&S-Shocard-Block, A&S-Sign-Gothic, A&S-Signwriter, A&S-Snapper-Script, A&S-Speedway, A&S-Wizard, Jiggy Roman, Marquee, Marquee Chisel, Graceland, Brushwacker, Omni, Omni Chisel, Omni Chisel Regular, Xtreme Script, Roadhouse, Brushwacker Script, Cricket, Edoras, Black Swan, Blaze, Bone Casual, Cartoon, Wizard Bold.
Ace High (2010) and Tuscano Script (2011) are Western Victorian typefaces.
EXTERNAL LINKS
Signfonts.com
MyFonts search
Monotype search
Fontspring search
Google search

INTERNAL LINKS
Commercial fonts (small outfits) ⦿ Comic/cartoon fonts ⦿ Type scene in Texas ⦿ Brush script typefaces ⦿ Western fonts ⦿ Type designers ⦿ Type designers ⦿ Chiseled fonts ⦿ Tuscan fonts ⦿