Schriftguss AG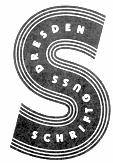 German foundry that was located in Dresden. Designers include
Otto Arpke: Designer of the fat display typeface Arpke Antiqua (Schriftguss, 1928).
Carl Albert Fahrenwaldt, who made the Minister family in 1929 based on garalde types (Adobe and Linotype have their own versions). He also made Edelweiß (1937), Prominent (1936), and Symbol (1933).
Heinrich Wieynck made Wieynck-Werkschrift (1930) and WieynckGotischLicht (1926).
Peter Schneidler made the handwriting Mistral-like typeface Maxim in 1955 (Ludlow's version).
Peter A. Demeter: the shaded roman capital typeface Holländisch (1922-1926), which also comes with Bold and Extended weights.
Fritz Müller: Armin-Gotisch (1933).
Martin Wilke: Burgund (script face).
Willy Schumann: Butterfly (1927, script), Butterfly Halbfette (1928), Troubadour Magere (1927).
Walter Schnippering: Pentape (1935, script).
K. H. Schaefer: Orchidea (1937, script), Schaefer Versalien (1927, lineale titling font on a shaded background), Capitol (1931, a lineale with an extra vertical stroke on the left of each glyph typical of art deco; for a revival, see Capitol Pro (2012, Ralph M. Unger).
A. Auspurg: Lido (1936, script).
Arnold Drescher: Energos (1932, script).
W. Berg: Divina (1930, script), Splendor (1937, script).
Peterpaul Weiß: Kursachen (1937, blackletter). Digitized and extended by Patrick Griffin at Canada Type in 2005 as Blackhaus.
Paul Sinkwitz: Sinkwitz-Gotisch (1942).
Gerhardt Marggraff: the blackletter typeface Marggraff-Deutsch (Halbfette and Fette in 1939, Leichte in 1940), Marggraff Light Italic (1929).
H.-R. Müller: Fao (1938). Nick Curtis used this as the basis for his Fargo Faro (2007).
K. Lehmann: Lehmann-Fraktur (1919).
J. Lehmann: Diamant (1937).
House typefaces include Gilden-Fraktur (1937), Jasmin (1929, blackletter), Jean-Paul-Schrift (1798), Härtel Roman (1928, a didone family) and the Plakatstil font Ohio in 1924, on which Nick Curtis based his ITC Zinzinnati (2001). One of their catalogs was published in Dresden around 1930. A 1925 catalog in Spanish includes Cursiva Minosa, Versaes Schaefer, Cursiva Saxonia Preta, Wieynk Gothic, Rembrandt Meia Preta, Grotesca VI Mercur, Hollandeza Larga, Versaes Kress, Romana Hamburguesa, Typo Klinger, vignettes, tipos de cartel, and other typefaces.
Samples of their work: Aldine Schmalfett, Ambassador, Mimosa, Maximum, Appell (1934), Artista, Belwe Antiqua Licht Versalien, Bodoni, Cooper, Druckhaus, Echo, Helion, Diamant, Duplex, Milo, Fette Copra Kursiv, Fette Gotisch, Gladiator, Aktuell, Energos, Burgund, ElegantKursiv, Grossmuetterchen, Grotesk, Grotesk Breite, Junior, Kurier, Fanal, Flamme, (a logo), Marko, Milo, Faro, Luxor, Admira (1940: revived in 2019 by Coen Hofmann), Ramona, Parlament, Patria, Pfeil, (a poster Plakattype), Rautendelein [a calligraphic typeface revived by Ralph M. Unger in 2017 as Carina Pro], Rhythmus [revived in digital form by Ralph M. Unger as Rhythmus Pro in 2016 and by Peter Wiegel in 2015 as CAT Rhythmus], Romantisch, Saskia, Schreibmaschinenschrift 512, Steinschrift, Super-Grotesk, Super-Kursiv, Super-Grotesk, Super Blickfang Initialen, SupremoVersalien, Tausendschoen, Unger Fraktur.
EXTERNAL LINKS
MyFonts search
Monotype search
Fontspring search
Google search

INTERNAL LINKS
Schriftguss AG
Extinct 20th century foundries ⦿ Blackletter fonts ⦿ Nick Curtis ⦿ German type scene ⦿ Modern style [Bodoni, Didot, Walbaum, Thorowgood, Computer Modern, etc.] ⦿