Marder, Luse and Company (or: Chicago Type Foundry)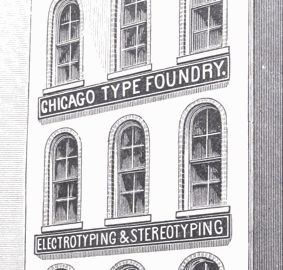 Chicago-based type foundry, 1863-1892, also called Scofield, Marder, Toepfer&Co., Scofield, Marder&Co., and the Chicago Type Foundry. In the great Chicago fire of 1871, they lost all their matrices. They were part of the big number of foundries bought in 1892 to form the American Type Foundry. They are credited with inventing the American point system, in which 12 points are a pica and 72.27 points are an inch.
A list of types will follow later, but for now, I will just mention display types such as Mandarin (an oriental simulation typeface digitized by Elsner&Flake in 1985 and available here). Images of selected typefaces and ornaments: Anglo Gothic, Antique Extended, Arcadian, Card Ornamented, Carriage and Livery Cuts, Celtic Initials, Centennial Script (1876), Clarendon Ray Black, Commercial Script, Crosier, Ecclesiastics and monastics, Eureka Text, Harlem Shade, Heading Script, Mortised for Calendar, Natural History Cuts, (another image), Norman Condensed, Payson Script, (another image), Poster Roman, Rimmed Black Ornate, Round Hand Scrtipt, Sloping Black Shaded, Text Ornate and Old Style Ornamented.
Additional images: example ornament (carriage), example ornament (hippo), example ornament (zebu), Dearborn Theatre ad (1869), Newspaper subheadings.
They ran a magazine with type news, called The Chicago Specimen. I leafed through most issues at Chicago's magnificent Newberry Library and took some poor quality photographs of selected passages. The Marder&Luse sale from 1871. A logo ca. 1872. Another logo. A logo from 1871. And another one from 1871. The Marder Luse building in Chicago. The sale in 18690 to Marder Luse. The Scofield Marder Toepfer building. Gossipy news about the Conner foundry. The Chicago Specimen, October 1872. The Chicago Specimen: an ad. The Chicago Specimen, January 1869.
EXTERNAL LINKS
MyFonts search
Monotype search
Fontspring search
Google search

INTERNAL LINKS
Foundries of the 19th century ⦿ Oriental simulation fonts ⦿ Type scene in Illinois ⦿ Blackletter fonts ⦿ Clarendon ⦿