Dickinson Type Foundry [Samuel Nelson Dickinson]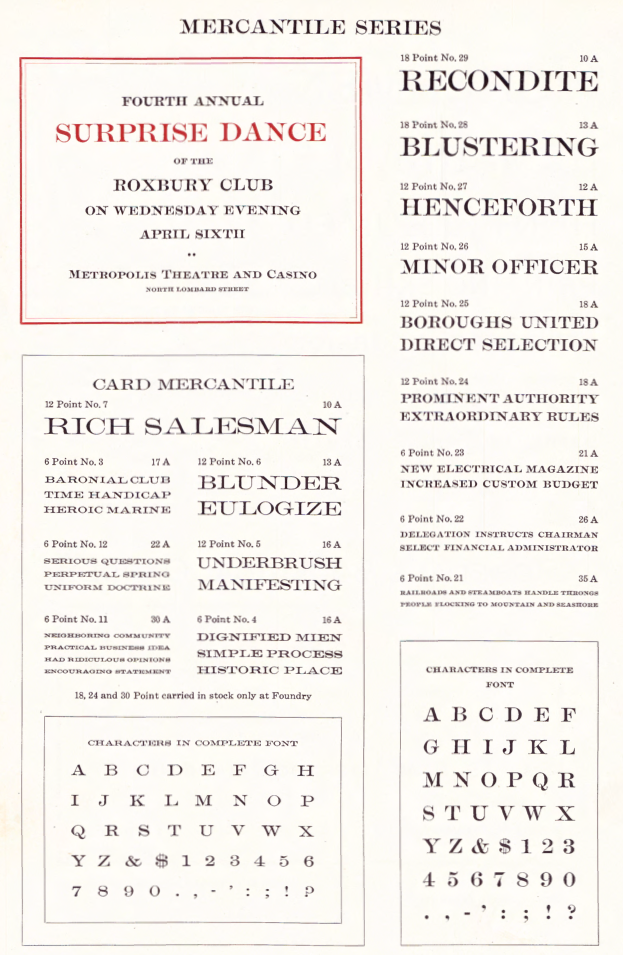 Boston-based foundry, also called Phelps&Dalton, and Phelps, Dalton&Co. Founded by Samuel Nelson Dickinson in Boston in 1839. They published "Specimen of type for book printing, manufactured by Samuel N. Dickinson" (Boston, 1842), "Hand-book specimen of printing type, cuts, ornaments, etc., from the foundry of Samuel N. Dickinson" (Boston, 1847), and "Point specimen book. Specimens of printing types, rules, cuts, printing material" (Boston, 1893, 457 pages). See also The General Specimen Book of the Dickinson Type Foundry, Comprising Types for Letter-Press Printing of Every Variety (Boston: Phelps&Dalton, 1856). In 1872, a fire ravaged the company, and a skilled punchcutter, Alexander Phemister, became a partner. In 1891, Dickinson became part of ATF in the great meltdown. Joseph W. Phinney and Robert W. Nelson (1851-1926) made the transition from Dickinson to ATF.
Scans of typefaces shown in the 1923 ATF catalog: Roycroft Tinted, Card Mercantile (1890s).
Commentary by McGrew on Card Mercantile: Card Mercantile was produced by Dickinson Type Foundry in the 1890s or earlier. Except for a few letters, it appears to be a duplicate of Extended No. 3 of Stevens, Shanks in England. In 1901 Morris Benton redesigned the two smallest sizes for ATF, successor to Dickinson, for better compatibility with the other sizes. It is a very delicate, wide, thick-and-thin style without lowercase (but the English typeface has lowercase), somewhat similar to Engravers Roman, which supplanted it in popular use. An 1899 ad said, "For imitating the work of steel engravers there can be nothing more beautiful picked from a case, and it is difficult if not impossible to imagine how anything finer ever can." Compare Engravers Roman, Brandon, Litho series.
Digital revivals include Renaissant NF (2014, Nick Curtis: a Victorian typeface).
EXTERNAL LINKS
Dickinson Type Foundry


[Buy fonts]


[Designer info]
MyFonts search
Monotype search
Fontspring search
Google search

INTERNAL LINKS
Foundries of the 19th century ⦿ Type scene in Massachusetts ⦿ Morris Fuller Benton ⦿ Victorian typefaces ⦿ Nick Curtis ⦿