Fonderie Normale [Jules Didot]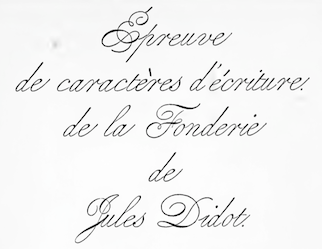 Foundry in Brussels, which published a specimen book entitled Specimen des caractères de la Fonderie Normale à Bruxelles, provenant de la fonderie de Jules Didot et de son père Pierre Didot (1819). Like so many printers in Belgium at the time, its foundry was heavily influenced by and dependent upon Didot.
In 1914, Enschedé republished it with a foreword that tells the story of the Fonderie Normale: i, ii, iii. Some sample pages from that book: Ecriture, Ecriture, Fantaisies, Gothique, Gothique Ornée No. 1489, Grec, Romain, Didot. Link to the 1914 text.
EXTERNAL LINKS
MyFonts search
Monotype search
Fontspring search
Google search

INTERNAL LINKS
Foundries of the 19th century ⦿ The Belgian type scene ⦿ Modern style [Bodoni, Didot, Walbaum, Thorowgood, Computer Modern, etc.] ⦿ Books on type design ⦿