Solomon Benediktowitsch Telingater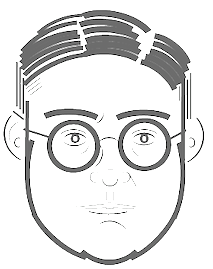 Soviet book and type designer, b. Tiflis, 1903, d. Moscow, 1969, best known for his constructivist work. His typefaces include Telingater Display (1959, Polygraphmash), Titulvnash Telingater (Titulnaya) and Akzidentnash Telingatera (or Akzidentnaya) (1955--1962). Telingater Display was awarded of the Silver Medal at the International Book Art Exhibition (IBA-59) at Leipzig (Germany) in 1959. See also here. He was a maestro of pictorial and decorative typography, as one can see in these posters and prints from 1927 and 1930.
Julia Vazhova (Moscow) created a series of posters and sketches on Telingater in 2014, including a great portrait.