David Pankow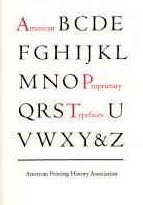 Editor of American Proprietary Typefaces (New York: American Printing History Association, 1998). This book has contributions by the following people:
Susan Otis Thompson: American Arts & Crafts Typefaces
Martin Hutner: Type of the Merrymount Press
Herbert Johnson: Montaigne and Centaur Types of Bruce Rogers
Cathleen Baker: Typefaces of Dard Hunter, Senior & Junior
Mark Argetsinger: Frederic Warde, Stanley Morison, and the Arrighi Type
Jerry Kelly: Joseph Blumenthal's Spiral/Emerson Type
Dwight Anger: Frederic Goudy's Kaatskill Type
W. Gay Reading: Victor Hammer's Uncial Types
John Kristensen: The Experimental Types of W.A. Dwiggins
Paul Hayden Duensing: Contemporary Private Types.
EXTERNAL LINKS
David Pankow
MyFonts search
Monotype search
Fontspring search
Google search

INTERNAL LINKS
Books on type design ⦿ Uncial typefaces ⦿ Frederic William Goudy ⦿