Ludwig Sütterlin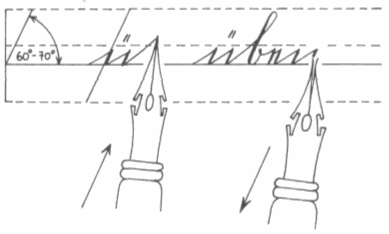 Berlin-based graphic designer (b. 1865, Lahr, d. 1917, Berlin) who in 1915-1917 invented the Sütterlin Schreibschrift, which was used to teach children handwriting. Various Sütterlin fonts can now be found on the web. It was introduced in the German schools starting between 1924 and 1934, and was used until 1941-1950, depending upon the region, when standard handwriting was taught. Scans: German writing style, Latin writing style, picture from 1914, the alphabet, another view, a practice book from a Berlin school, 1919, his own handwriting, how to hold the pen.
References: Marcus Hahn's course at the University of Saarland covers the Sütterlin Schrift. See also the 1983 essay by Wolfgang Hendlmeier: A, B, C, D, E. Anselm S. Bär wrote a brief biography in 1999.
Digital fonts for Sütterlin:
Author of Neuer Leitfaden für den Schreibunterricht (Albrecht-D&7uml;rer-Haus, Berlin, 1926).
EXTERNAL LINKS
Ludwig Sütterlin
MyFonts search
Monotype search
Fontspring search
Google search

INTERNAL LINKS
School fonts ⦿ Type designers ⦿ Type designers ⦿ Calligraphic typefaces ⦿ German type scene ⦿